Ready to Get Started? Schedule a Consult:
As organizations implement Return to Work (RTW) strategies in the face of the global pandemic, a Screening, Protection & Tracing (SPT) plan is critical to protecting employees, visitors, and the broader community.  At Vision Technologies, our SPT solutions are designed to help screen people at the point of entry and to protect your organization through touchless access control, mask detection, and elevated skin temperature (EST) measurement.  In addition, our SPT solutions enable organizations to enforce density and social distancing policies and to perform a contact tracing analysis to identify where an infected individual came into contact with others.  With a comprehensive SPT solution in place, you can prepare your organization for a safe and secure return to work.
Design, Build, & Support
Vision's full-scope SPT solution set encompasses design, build, and post-implementation support.  Our Integrated Technology DeliveryTM (ITDTM) methodology will help you achieve your SPT goals by blending the latest technology, sophisticated design and our talented team of certified professionals.  Post-implementation, choose from our comprehensive menu of maintenance and support offerings through our Managed Services Center (MSC).
SPT Solutions: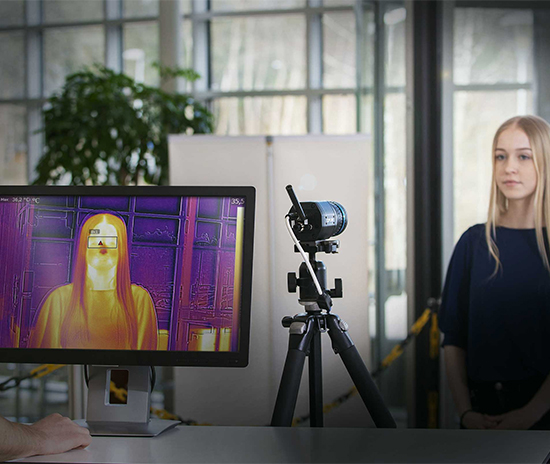 Touchless Access Control
Elevated Skin Temperature Detection
Mask Detection
Contact Tracing
Self-Deployable Systems to Fully Integrated Solutions
Density & Social Distancing Policy Enforcement
Access Control System Integration
Video Management System Integration
Visitor Management System Integration
NDAA & TAA Compliant Solutions Available
Touchless Access Control
Our embedded face & palm recognition sensor solutions provide 100% hands-free hygienic user authentication for various applications including Access Control, Time & Attendance, Visitor Management, Event Management & more.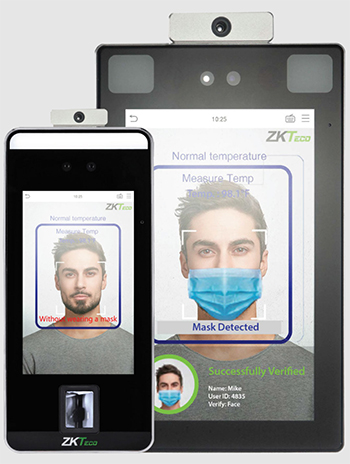 Elevated Skin Temperature & Mask Detection
Several states and local municipalities have implemented orders or issued guidance urging or requiring that temperature checks be implemented before employees are permitted to report to work.  In addition to providing touchless face and palm user authentication, our SPT solution provides fast and accurate Elevated Skin Temperature (EST) measurement and detects if a protective mask is being worn. Users can be denied door access if an EST or no mask is detected.  Identifying users having EST or not wearing a mask greatly helps prevent the spread of contagions.
Contact Tracing
Contact tracing can be a daunting and often manual process unless you have the right solution in place to facilitate these efforts.  Vision's solution set can help your organization to trace potentially contaminated individuals using integrated access control reporting and analysis tools, video surveillance, wireless infrastructure and IoT sensor technology. 
Vision can provide access control solutions that help organizations find all people who went through a door in close proximity to someone thought to be contagious. Organizations can quickly perform a forensic analysis to correlate access events by time window to identify people who are at increased risk of being in contact with contaminants or contagious individuals. This will allow enterprises to proactively advise individuals of their potential contamination and take the necessary hygienic precautions, as outlined by health and safety procedures and regulations.
In addition, Vision can provide the latest RTLS solutions that integrate with employee directories and visitor management systems to enable in-building wireless contact tracing.  
Vision can help you to leverage the latest IoT technologies as well through occupancy sensor arrays designed to minimize contact by helping to enforce density and social distancing policies.
Need help finding your solution? Please fill out our contact form, call us at 866.826.6142 or click the button below to schedule a call with an expert.