The workplace of the future has no fixed address
Is your space future proof?
Ready to Get Started?
Vision's communication and collaboration solutions enable a workforce that can connect, share and collaborate from any location on earth. Hybrid work is a breeze when you select the right digital workplace platform for your company that dynamically and cohesively connects a dispersed workforce.
Using video-enabled devices to see and share content and to work together can create benefits of collaboration across the entire organization, such as increasing productivity, accelerating decision-making, and reducing travel costs.
The seamless convergence of technologies, people and processes is how your business can integrate collaborative technology to drive innovation, hone your competitive edge, and enhance performance now and into the future.
Transform everything about the way you do business
Vision's collaboration solutions are as versatile as you are. We have experience in:
Healthcare

Education

Manufacturing

Financial services

Government

Entertainment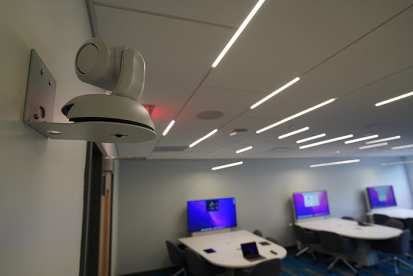 The Digital Workplace is here to stay
Now, more than ever, it is critical to have platforms that seamlessly unite a dispersed organization into one workforce. 
Solutions for the hybrid work world
We can help you plan a customized solution for your specific space:
Personal workspace 

Small huddle rooms

Collaborative team areas

Conference workspace for a distributed workforce

Executive workspace using video collaboration in the board room

Hot desking and scheduling

Hyflex classrooms to unite in-person and remote students

Immersive telepresence workspace
...even out on the road! Contact us today to find the right solution that fits your needs.