ITD® Integrating Solutions that Maximize Your Technology ROI
Ready to Get Started? Schedule a Consult:
ITD® is Vision's trademarked Design-Build methodology, focused on Technology solutions. ITD® enables end-users and design-build teams to maximize their technology budgets through the efficient engineering of converged technologies. With the convergence of voice, data, Wi-Fi, security systems and audio-visual networks onto a single IP-enabled infrastructure, ITD® provides for a holistic view into management of the network and bandwidth allocation, through the converged physical and virtual network management platforms.
More than a technology engineering agenda, ITD® delivers true value to your IT team through a collaborative process, defining the requirements and producing a "good/better/best" selection set of options from which you select the best feature set and budget to meet your needs. 
By efficiently collaborating early in (and throughout) the process, ITD® enables us to confidently enter the build process with the promise of best value at the lowest cost. One of the best values of ITD® is savings related to a reduction in duplication of efforts, which translates to different markup and overhead cost as well as project management cost and the overhead associated with it. ITD® provides centralized control, coordination and one hand to shake.
Eliminate costly change orders, accelerate your project, save time and lower the total cost of ownership with Vision's ITD® approach. Enhance your project's ROI while delivering it faster!
---
Need help finding your solution? Contact us to schedule a call with an expert.
WHY ITD?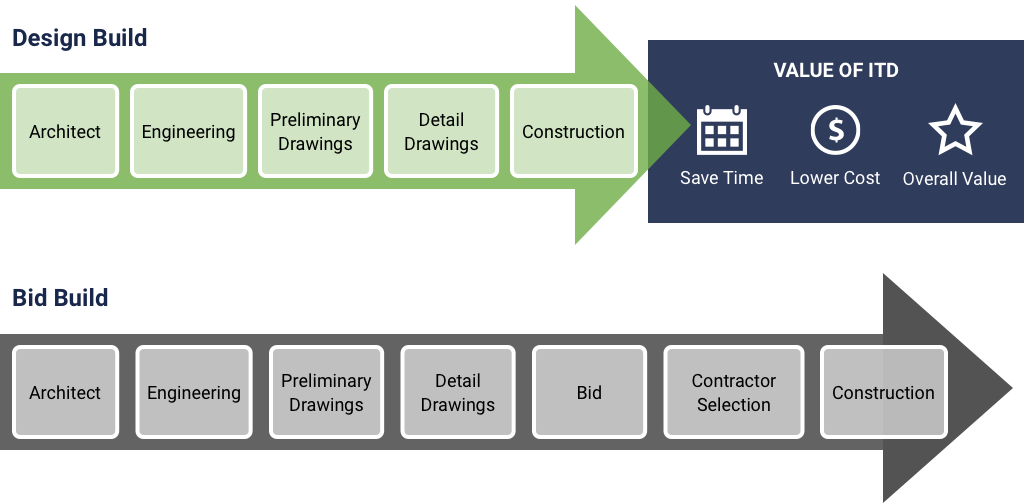 Vision's unique and proprietary ITD® provides the benefits of using a proven design-build methodology for the integration of technology systems. Using the industry standard, AIA's Integrated Project Delivery (IPD), in combination with Vision's best practices and methodologies, your project will get exactly the right technologies and integrated capabilities it needs.
The benefits of ITD® include:
Enhances ROI
Save money and speed your project to completion
Eliminates change orders
Minimizes delays
Eliminates multiple markups
Delivers detailed engineering
Lowers overall risk
Increases speed to project closeout
Enables consistency in program management
Using our Integrated Technology Delivery methodologies, our highly experienced team (DBIA Design-Build Professionals, RCDD, BIM, CTS/CTS-D, RF, PON) will develop a tailored solution for your property. Our team will coordinate with the other design teams to develop a solution that maximizes functionality while minimizing changes as the build progresses. Delivering integrated solutions that maximize the utility of the low-voltage infrastructure, brings expertise and experience in the following specialties: