Ready to Get Started? Schedule a Consult:
As organizations implement Return to Work (RTW) strategies in the face of the global pandemic, Touchless Visual Communication and Collaboration (TVCC) solutions are critical to employee and visitor safety while enabling productive meetings and teamwork. At Vision Technologies, our TVCC solutions are designed to create a safe and secure touchless meeting experience where people can communicate and collaborate seamlessly and with ease with in the room, remotely, or both. In addition, our room system and digital signage solutions enable organizations to reinforce occupancy and social distancing policies and share important real-time health and safety information from a range of integrated solutions. With a comprehensive TVCC solution in place, you can prepare your organization for a safe, secure and productive return to work.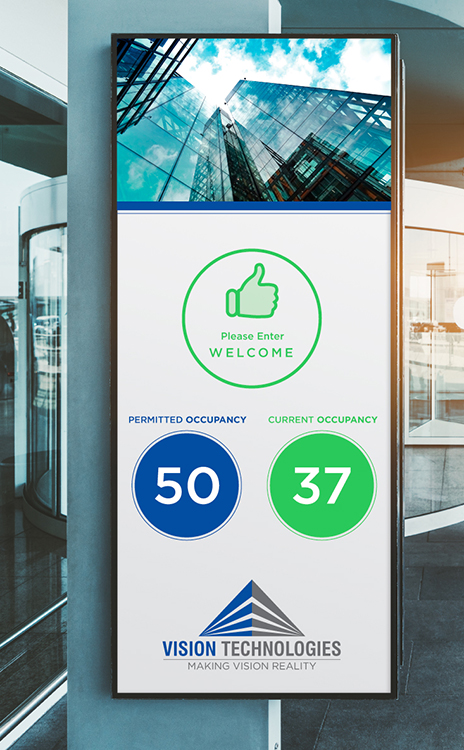 Design, Build, & Support
Vision's full-scope TVCC solution set encompasses design, build, and post-implementation support. Our Integrated Technology Delivery (ITD®) methodology will help you achieve your TVCC goals by blending the latest technology and sophisticated design with integration by our talented team of certified professionals. Post-implementation, choose from our comprehensive menu of maintenance and support offerings through our Managed Services Center (MSC).
TVCC Solutions:
Touchless Conference Rooms
Occupancy & Social Distancing Policy Enforcement
Conference & Huddle Room Scheduling & Analytics
In-Office & WFH Conferencing Solutions
Digital Signage for Policy & Real-Time Communication
Visitor Management Systems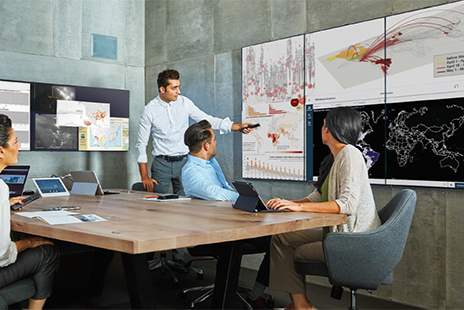 Touchless Meetings
Enhance the safety and productive utilization of your meeting spaces with touchless room reservations and scheduling combined with the ability to present and share content, touch-free, from any laptop or mobile device.
Occupancy & Social Distancing Policy Enforcement
Many states and local municipalities have implemented orders or issued guidance on occupancy limitations and social distancing. By leveraging intelligent meeting room systems, our TVCC solution enables you to move beyond simply automating occupancy detection and environmental control such as lighting and temperature adjustment. With integrated IoT sensors and intelligent camera systems, real-time occupancy detection is enhanced with people counting and social distancing measures to facilitate policy enforcement. Policy violations can trigger room system occupant alerts, notify HR or management teams, or lock down the room systems.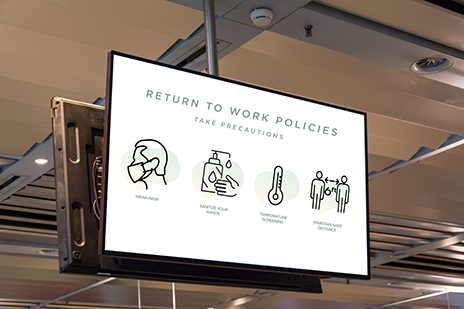 Digital Signage
Digital signage is a critical facet of effective RTW strategies allowing organizations to quickly share important health and safety information in real-time including occupancy, mask, temperature, sanitization, and social distancing policies. Vision's TVCC solutions integrate with people counting occupancy sensors, access control, and Visitor Management Systems (VMS). This provides organizations with the ability to display real-time occupancy counts to facilitate capacity management and automated instructions at points of entry where integrated mask and temperature detection solutions can display results or alerts. As guests arrive, integrated VMS systems can display QR codes for contactless, touchless check-ins and integrated queue management tools can optimize safe customer flows.
Communicate & Collaborate Safely & Securely
Vision can help you to find or better utilize the best Unified Communication & Collaboration (UCC) solution for your organization to keep your teams securely connected whether they have returned to work or are working remotely. Our comprehensive TVCC solution set spans Cisco WebEx, Microsoft Teams, Zoom, RingCentral, and other cloud-based Video-as-a-Service (VaaS) solutions for interoperability between huddle rooms, conference rooms, video conferencing systems, laptops, tablets, and other mobile devices. These solutions are software or cloud-based applications that enable conferencing with voice, video, and screen sharing to keep your teams communicating and collaborating seamlessly no matter where they are located.
Need help finding your solution? Please fill out our contact form, call us at 866.886.0277 or click the button below to schedule a call with an expert.