Turn meetings into moments of wonder with the dynamic performance of a video wall
Vision's portfolio of industry-leading video wall solutions encompasses a wide range of different technologies, sizes and resolutions that will do just that.
Ready to Get Started?
Expect only the best-in-class image performance with answers to the unique needs of each application. 
Plus, get unmatched performance, durability, and value across our broad product offering, built for the most demanding environments and to your exacting standards – whatever they may be.
Configuration flexibility, serviceability, and reliability make Vision the benchmark for specialty, digital displays, and systems.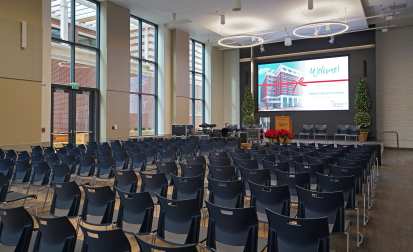 Memorable Messages
Do you need a memorable way to showcase your brand story to guests?
Video walls are a must for large event spaces, but are also a great way to decrease perceived waiting time in lobbies while increasing brand and message recall for visitors to your space.
Video Wall Features:
Seamless, ultra-fine pitch direct view LED video walls 
The narrowest LCD bezels with the slimmest installation depths
LED-illuminated rear projection video wall displays 
Superb image quality 
Industry-leading power-efficient performance
Superior visual performance 
24x7 reliability