Why CBRS? Smart Building Solutions for Enterprises in 2021
Last year, during the height of the pandemic, Vision Technologies relocated its headquarters to a larger facility in Glen Burnie, Maryland. The move allowed our 57,000 square foot building to be equipped with the latest audio-visual (AV), security, wireless, and network infrastructure solutions, all of which showcases many of the innovative technologies Vision provides to our customers.
One of the latest solutions shaking up the wireless network ecosystem? Citizens Broadband Radio Service (CBRS).
Recently, Vision partnered with CommScope RUCKUS to install and showcase the newest addition to our growing portfolio of Smart Building solutions, the RUCKUS Q710 high capacity indoor LTE access point for the 3.5GHz CBRS band. This access point offers the highest CBRS capacity available for use in high-density areas such as stadiums, hotels, and enterprise environments with an easy-to-install design. 
What is CBRS?
CBRS is a band of radio-frequency spectrum from 3.5GHz to 3.7GHz that the Federal Communications Commission has designated for sharing among three tiers of users:
Incumbent users

Priority licensees

Generally authorized access users
The incumbent users are those who have historically held exclusive rights to the band, namely satellite ground stations, and the US Navy.
Meanwhile, priority licenses were auctioned off last year, allowing new licensees to use the band in particular US counties so long as they don't interfere with the incumbents. Priority licensees do tolerate possible interference from the incumbents, however. ISPs such as Verizon and Comcast spent billions of dollars in this auction.
Generally authorized access gives unlicensed users the right to shared use of the band as long as they don't interfere with the other two categories of users.
Where is CBRS used?
CBRS enables enterprises to build their own private networks, which results in improved performance. The RUCKUS Q710 can blend into any environment, making it ideal for universities and colleges, large offices, retail stores, manufacturers, stadiums, event venues, airports, hotels, and more.
Specific CBRS use cases include:
Augmenting Wi-Fi coverage to control the quality of user experience and offload MVNO costs through Local Indoor LTE mobile access.

Deploying CBRS small cells for outdoor mobile access by leveraging the HFC plant and deep fiber nodes.

Using CBRS based Fixed Wireless Access (FWA) technology to provide reliable and fast broadband access in areas that don't have cable access.

Helping enterprises or venue owners deploy CBRS based private LTE networks to beef up in-building wireless coverage and capacity.

Creating new business models like Neutral Host Networks and Industrial IOT using this band.
Why did Vision Technologies partner with CommScope to install CBRS at Vision?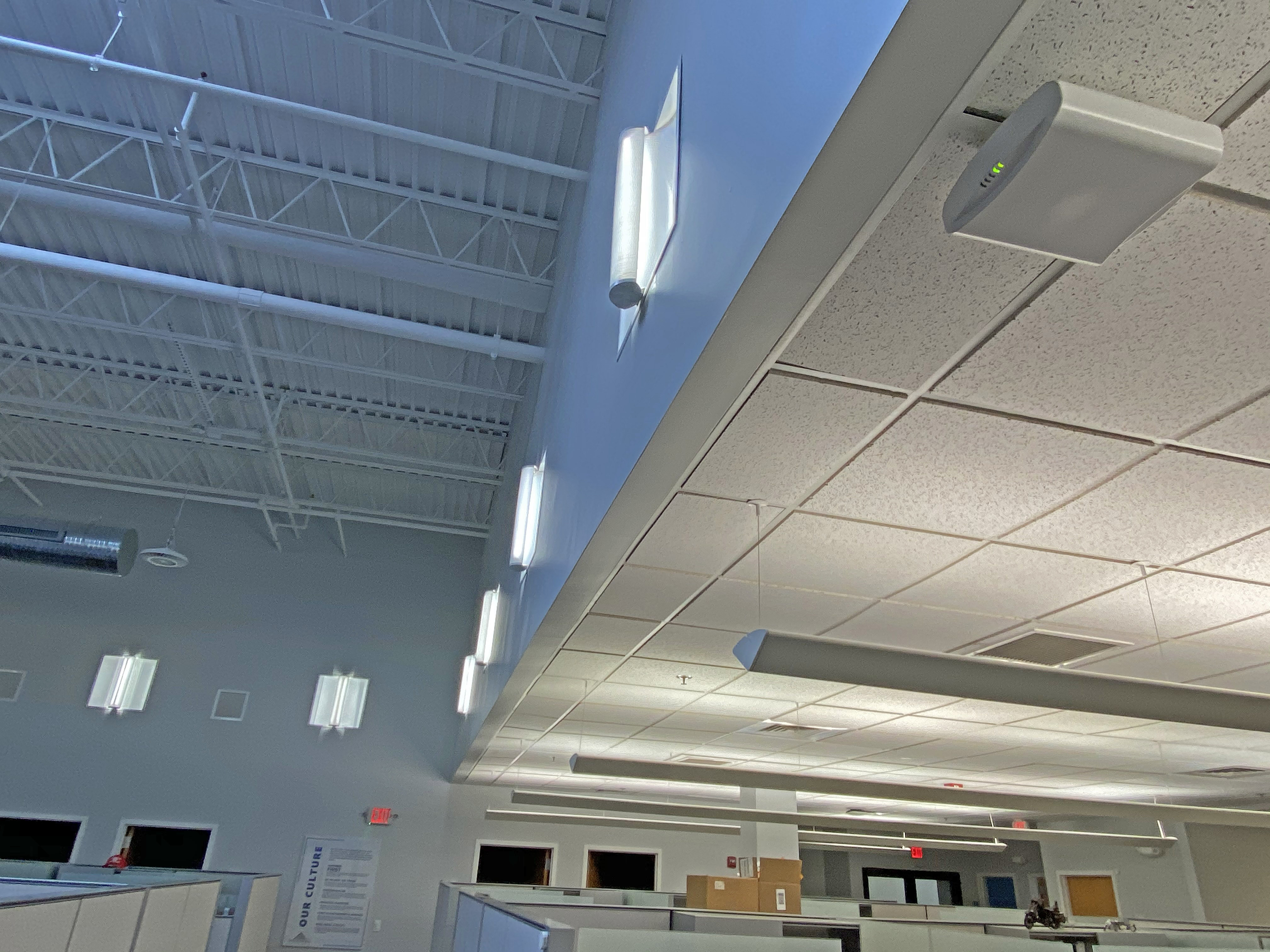 Vision Technologies is a leader in Radio Frequency (RF) technology design and integration. Therefore, Vision has outfitted our headquarters with the latest technologies in Cellular DAS, Public Safety DAS, IEE 802.11 2.4GHz & 5GHz to show our partners and customers. For this project, Vision Technologies partnered with CommScope to deploy an indoor CBRS solution in order to provide a private LTE network throughout the building. This solution provides a segregated data network for our asset tracking, proximity locations services, as well as our inventory management. We are excited to be a leader in this technology and even more excited to implement this CommScope solution as a use case for our Smart Building Initiative.
Are you looking for ways to leverage IoT technology in your building?
Book an appointment to come see for yourself just how "smart" Vision is with personalized demos at our headquarters!