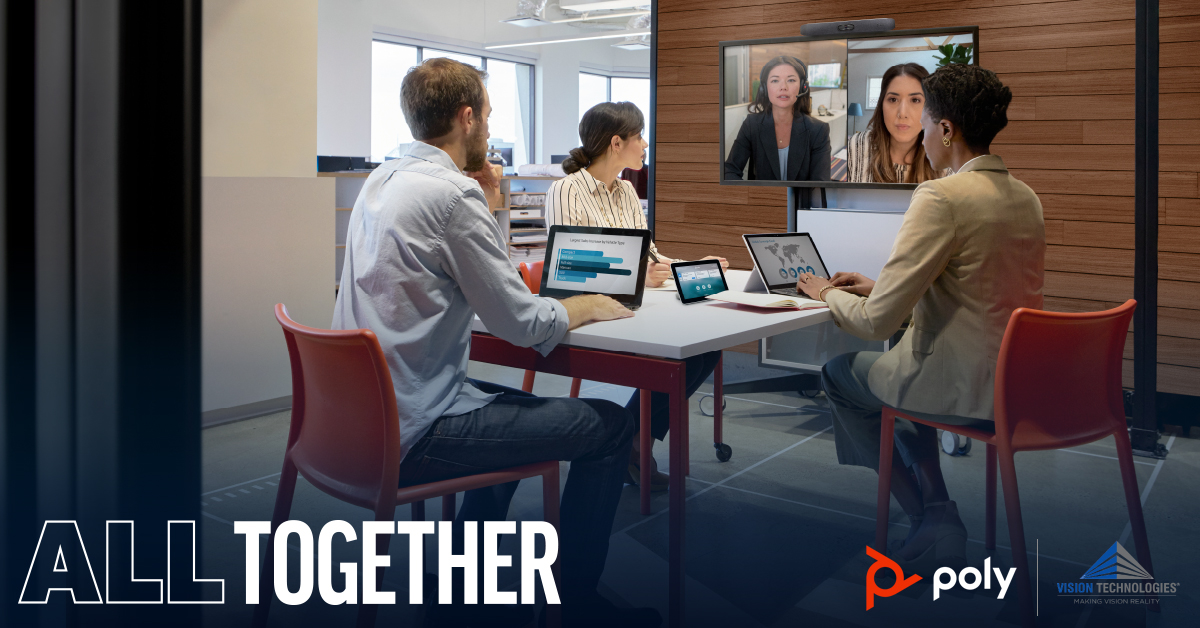 The New Hybrid Workplace- How To Create Meeting Equality While Working Remote in 2022
We all know that companies have done their best to adapt to the hybrid work environment. Follow along until the end of this article for quick tips as well as a downloadable comprehensive guide to make the most out of your hybrid work experience.
With the increased focus on meeting equality for all participants, there have been great advances using Artificial Intelligence (AI) tools in the different platforms (Teams, Zoom, WebEx, etc.) to create a personal space (Hollywood Square/Window) for each participant in a group conference room.  Conference room equipment upgrades are also providing a boost to optimize camera views from the room with both a wide view and a primary speaker highlighted.  These are great enhancements to help create equality between all participants in the hybrid workplace, especially since 40% to 60% of the team will be working in the office on any given day according to recent surveys. 
At the beginning of the pandemic, companies who could, quickly switched to remote work and relied on cloud platforms to host meetings and other office productivity tools, like Office 365.  Some people were fortunate to already have a "home office" setup with a webcam, USB speakerphones, docking station, and a display for our laptop.  Many of us were scrambling to find Chromebooks for our students to attend virtual classrooms and then continue our online shopping to find whatever was still available for a home office setup.  Looking back, the availability of products took precedence over quality. While this was okay to enable basic work from home capability when online shopping was the only option, there is a better way for sustainable quality meetings.  Going forward, the hybrid workplace will need to provide meeting equality wherever you are working from, to ensure your presence in a meeting is enhanced by your local technology. 
Evaluate Your Remote Home Office:
3 quick steps to better meeting equality
Office Background- check your surroundings


First, start with the workspace for your remote office, take a few minutes to evaluate your self view for good lighting and your background, without blurring or a virtual background.  See what other people will see and make adjustments to achieve the image you want to project.  You can use virtual backgrounds, plain or enhanced with company branding, or blurring to change your background without physical changes. However, there may be software or hardware limitation with the video client, and it cannot support these digital backgrounds. 

Lighting- it makes a difference


Lighting is also very important and can be adjusted in the room to improve the video image.  You do not need broadcast studio lighting. Just see how your self-view video changes as you adjust your lighting.

Audio and video- make sure you are heard and seen to be taken seriously in hybrid work


Hybrid work can spare your co-workers from awkward water cooler talk, but it shouldn't prevent anyone from having a voice. Audio and video performance are paramount, and the product selection will "make or break" the results.  At the start of the pandemic, product availability may have driven your selection instead of performance capabilities.  Plus, over the last 2 years there has been significant improvements in AI features in these devices to improve the quality of your audio with noise blocking, acoustic fences, and echo cancellation to just name a few. 





On the camera side, higher resolution, auto framing, and digital zooming have made staying "on camera" easier and hands free.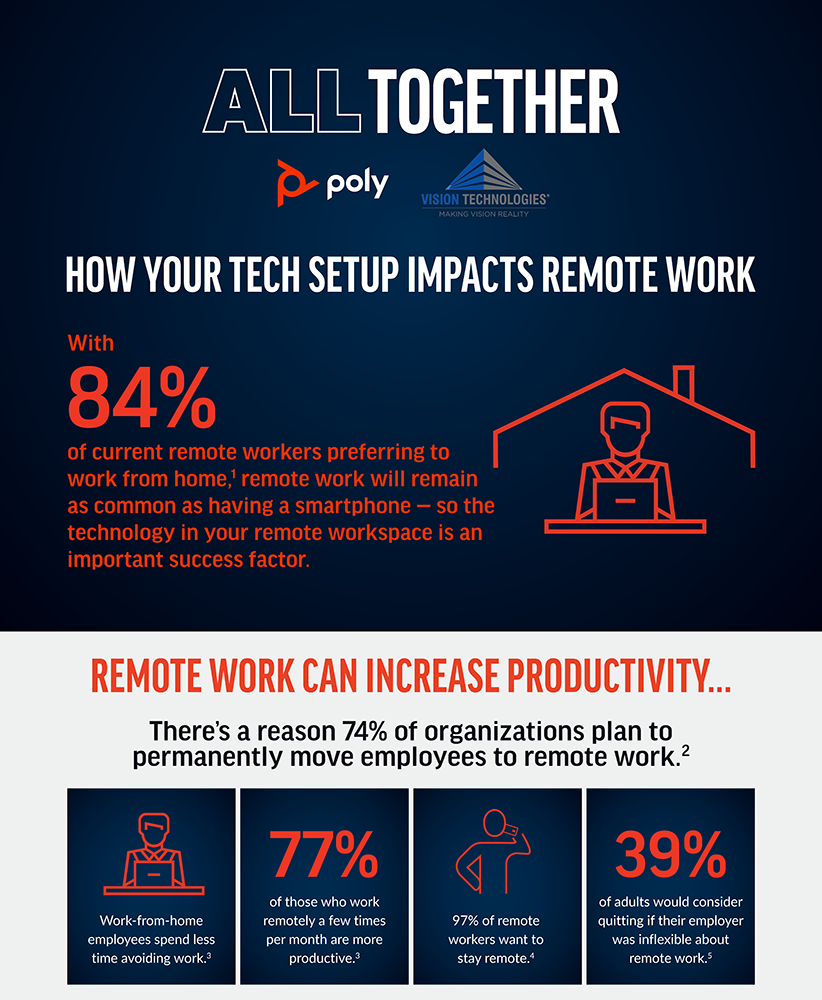 That's why it's critical to have technology on your side. As part of the Vision Technologies hybrid workplace solution portfolio, we carry the Poly products your workforce needs to enhance inclusivity across the entire organization. With their AI-powered solutions, distraction-free audio and exceptional service, they erase distance and amplify the exchange of ideas.
Because when everyone can be heard from anywhere, there's nothing your team can't achieve together.
Meeting equality starts with the right solutions. And since every organization is different, Poly's innovations aren't one-size-fits-all. Whether you're fully remote, on-site or a mix of both, we pulled together a comprehensive guide to help you fill in the gaps and maximize efficiency. 

We are also excited about the recently announced HP acquisition of Poly and the solutions they will bring to the market.  "The rise of the hybrid office creates a once-in-a-generation opportunity to redefine the way work gets done," said Enrique Lores, President and CEO of HP. "Combining HP and Poly creates a leading portfolio of hybrid work solutions across large and growing markets. Poly's strong technology, complementary go-to-market, and talented team will help to drive long-term profitable growth as we continue building a stronger HP."  
Download your copy of the Poly Solutions Guide For Remote Working: