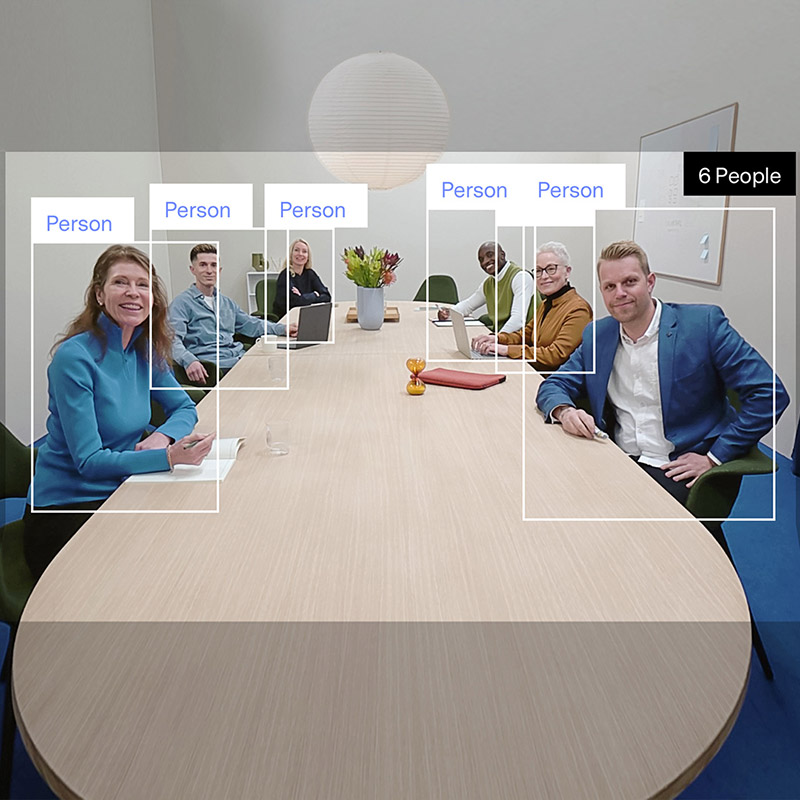 Intelligent Video is the future to enable inclusivity in the hybrid workplace
Since the start of the pandemic, technology has proven that we can be productive whether we are working remotely or in the office. 
"A recent survey reports 60% of the people participating define the ideal work week as including working from home or the office and would change jobs if the organization did not provide technology for a hybrid option."
We are fundamentally not going to go back to what we had before.  
Employees ability to do their jobs remotely has changed when people work, what they wear, and what tasks they save for the office and do at home.  Once you accept that not everyone is returning to the office and being in one place, organizations can hire talent- the best talent- and they can work from anywhere.  When your teammates are in different cities and countries, and not in a single place, this increases the demand for technology that gives everyone an equal presence on the video call.  Organizations want to enable collaboration, push innovation, drive growth, and attract and retain talent.  Now, more than ever, enterprises need to extend technology across the organization as a priority instead of just top executive offices. 
Intelligent Video Fosters Connection For Hybrid Work

Delivering an effective hybrid work environment is all about the person.  Over 25% of individuals feel disconnected in this new hybrid workplace.  Intelligent video brings the next generation of capabilities to hybrid work.  It provides an all-important feeling of inclusiveness across the meeting ensuring everyone can be an equal contributor.  The future looks like having the ability to collaborate and be productive when some people are there physically while some are remote.  It is critical that the intelligent video makes people feel included, equal, heard, and seen no matter where they are.  To keep remote employees engaged, enterprises are using technology to foster culture of collaboration and inclusion in hybrid scenarios.  People need to see each other, hear each other, and be able to share content easily with each other. 
Crestron Flex Intelligent Video Solution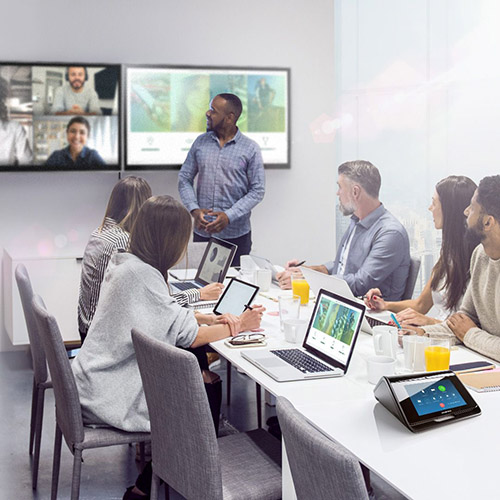 One example is the Crestron Flex platform, which has been built to be the foundation of productive work, easily adapting to evolving needs of business.  Crestron brings a consistent experience in every space for every participant built on a single platform.  Flex is easily deployed, managed, and monitored from the cloud allowing a solution to grow as your business grows.  Crestron Flex delivers an unparalleled experience within room, with their partners Jabra and Huddly, Crestron can extend experience outside room to remote attendees.  The result is a connected and more engaged meeting. 
Video Conferencing Solutions From Microsoft Teams and Zoom
Another feature to improve the equality of all participants in a virtual meeting, is coming from both Microsoft Teams and Zoom in the cloud solutions.  Today, when multiple participates are in one room, with social distancing their visual presence in the call is diminished since the room camera is typically in a wide view to show everyone in the room.  When this video image is inserted into one of the video windows (Hollywood Squares or Filmstrip presentation mode) the individuals in the room are not individual "head shots" like those from their desktop of personal huddle system.  Both Microsoft and Zoom are implementing Artificial Intelligence (AI) capabilities to deconstruct the group image and create a head shot for key participants so they each have their own Hollywood Square for the meeting.  This presentation elevates those in the room to be seen as individuals and not lost in a wide-angle view image. 
Vision Technologies Has All Your Video Conferencing Solutions 
Intelligent video is critical to successful meeting experience.  In the hybrid work setting, it is all about the experience of the person who is deploying the system, the users interacting within the space, and the user on the other end of the video.  Participants want to feel they are in the conversation.  With leading edge capabilities from Crestron, Microsoft Teams, and Zoom, you can create an inclusive and equitable environment for all. 
Contact a Vision Technologies audio-visual solutions expert to develop a custom hybrid work solution that meets your needs. 
Explore other audio-visual solutions and featured projects.