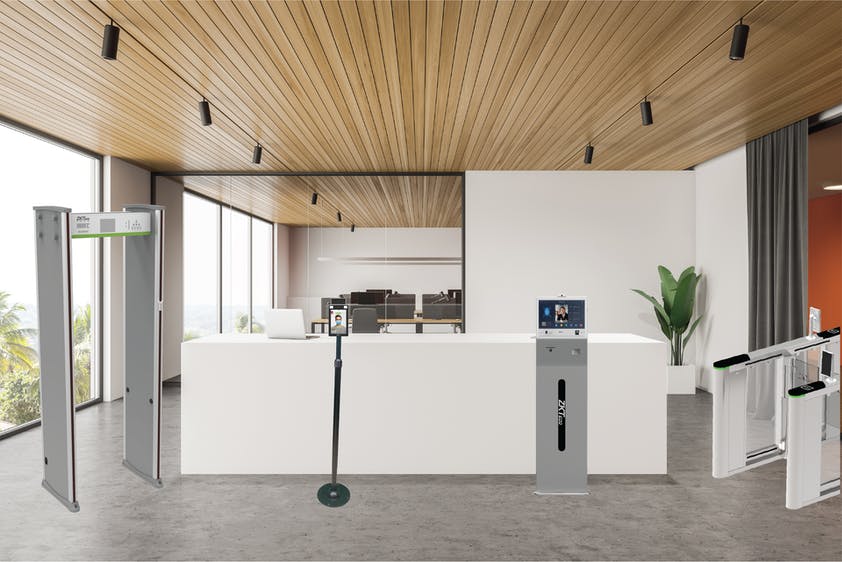 Next Generation of Touchless Access Control
As we return to the "new normal" in our workspaces, in-person meetings are making a comeback. Many of us have implemented measures such as pre-screening health questionnaires, mask wearing, temperature checks, and sanitizing meeting spaces but have you considered your visitor experience? Even pre-pandemic, many businesses had begun to transition from the traditional pen and paper to touchscreens for visitor check-in. But did you know that integrated, touchless visitor processing can be implemented today and can incorporate other checks such as screening, temperature and building occupancy at the same time?
We are now deploying the next generation of visitor management systems with simple kiosks or wall-mounted systems that can be managed in the cloud or on premise and will incorporate many of the features that are in demand during this time of heightened awareness of the health and well-being of our employees and visitors.
How It Works
Let's start with the invitation process. Our hosted systems can be integrated with your company's LDAP (Active Directory) environment to validate employees who are inviting guests to your facilities. Outlook calendar and room scheduling integration can be included as well. A customized health screening questionnaire can be delivered along with the invitation that will validate the guests' health status before issuing a virtual credential for their visit.
User-friendly, Automated Check-in
Upon arrival at your facility, visitors present a QR code on their mobile device to the visitor kiosk to initiate their check-in process. Impromptu visitors can scan a QR code posted at the check-in station to initiate the pre-screening process, and then chose an employee that they wish to see. The employee can acknowledge or deny the request through email or text. Once a visitor is recognized, their temperature and/or mask check is automatically completed at the same kiosk and a badge indicating their compliance can be issued thru a printer also located in the kiosk unit. An email and text notification is then generated to the employee who issued the invitation, and they will come to pick up their guest in the lobby. Optionally, the room scheduling system can be notified that the guest(s) have arrived for their meeting.
In addition, the access control system can maintain a count of employees and visitors to verify that established occupancy guidelines are being followed.
Accurate Recordkeeping
In the event of an emergency that day, an accurate record of who is in the building is available to ensure proper evacuation. This also provides a lasting record if contact tracing is required after the day of the visit.
At Vision Technologies, we are committed to bringing our customers the latest technologies that improve their day-to-day lives and help to keep their employees, customers, and visitors safe. Please contact us to discuss how we can improve the visitor experience at your workplace.
Security Systems