Data Center Security and the New Normal
Data centers have long been one of the best examples of deploying concentric layers of physical protection. Most of these facilities require contractors and visitors to pass through four or five layers from the "curb to the cabinet." What, if anything, has changed in the last one to two years considering the global pandemic? Most people have consciously or unconsciously altered the way they interact with their buildings and some of those changes are here to stay.
Touchless and frictionless are the new standards for security systems. Let us look at a few ways they affect security deployment in the layers we encounter during a typical visit to our data center.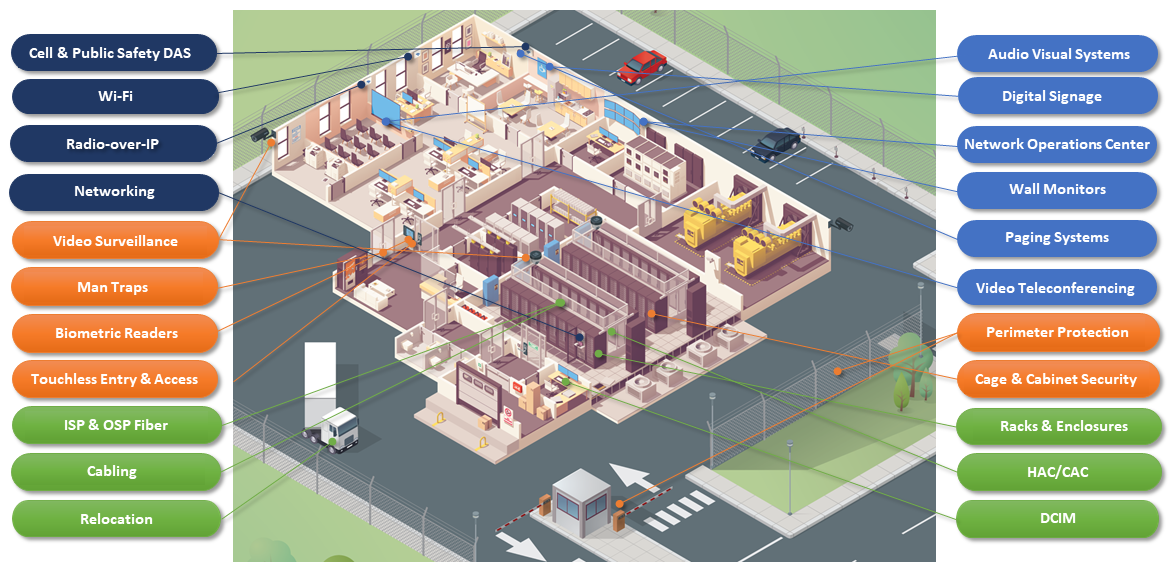 Arriving at the gate to the facility as a contractor or visitor, we are accustomed to the pedestal and intercom to request entry. Most intercom stations require the user to touch a button to initiate a call. Instead, we could open the call using through-the-lens detection on a camera covering the area, or a proximity sensor located nearby. Maybe we have a badge already; however, we must still stop and lower a window to present the badge and proceed. A more advanced method would be utilizing License Plate Recognition (LPR) technology to automatically clear vehicles that have pre-registered for a visit. LPR cameras are the new standard for frictionless entry to a facility and license plates can be accepted or denied from a pre-authorized list. The intercom becomes a backup solution rather than the primary and traffic moves quickly, even during peak times.
Once we have parked and entered the lobby area, we are now confronted with the visitor management process. While most have progressed from pen and paper for this purpose, it is still a primarily manual process of presenting ID, possibly utilizing a biometric scanner, etc. Valuable time is lost by both the visitor and the staff to process each person who arrives. The new standard in visitor management starts with an electronic invite in the form of an email or text with an embedded link to the enrollment process to be completed BEFORE visiting the facility. As is common today, a health screening questionnaire and explanation of any current restrictions can be part of the process along with ID verification. A bar or QR code can be issued once the process is complete and this code is displayed on the visitor's mobile device when arriving at the facility. The code is then presented to a scanner in the lobby which can also perform on-the-spot verification for skin temperature and mask presence, if required. Visitor authentication is quick, touchless, and a temporary credential can be issued on the spot.
Now, let's proceed from the lobby into the data hall areas. Since most limit access to a single portal, often incorporating a man trap for entry, manual door hardware can present a challenge for cleaning and sanitization. In addition, older biometric authentication stations often require a finger or hand to be placed on a scanner to gain entry. The new normal utilizes an automated, motorized portal with frictionless biometric authentication based on palm, facial, iris recognition, or a combination of these. All we need to do is walk through or glance at a conveniently mounted scanner, and the technology does the rest.
Where it is required or desirable, touchless authentication can carry into the cage or even at the cabinet level. All of this can be seamlessly integrated into the facility's access control solution.
While the solutions outlined above may sound complicated and expensive, in most cases, they can leverage much of the existing infrastructure and even some existing hardware to minimize the cost impact. The benefits of presenting a safe and secure environment to end users, freeing up valuable staff for other tasks, and speeding up the flow of vehicles and pedestrian traffic through the facility are obvious. Vision Technologies is dedicated to working with your team to update your security solutions to meet the challenges of the new normal that we are experiencing right now.
Download our Data Center Security Services datasheet.
Contact us for more information on how we can transform your security experience.