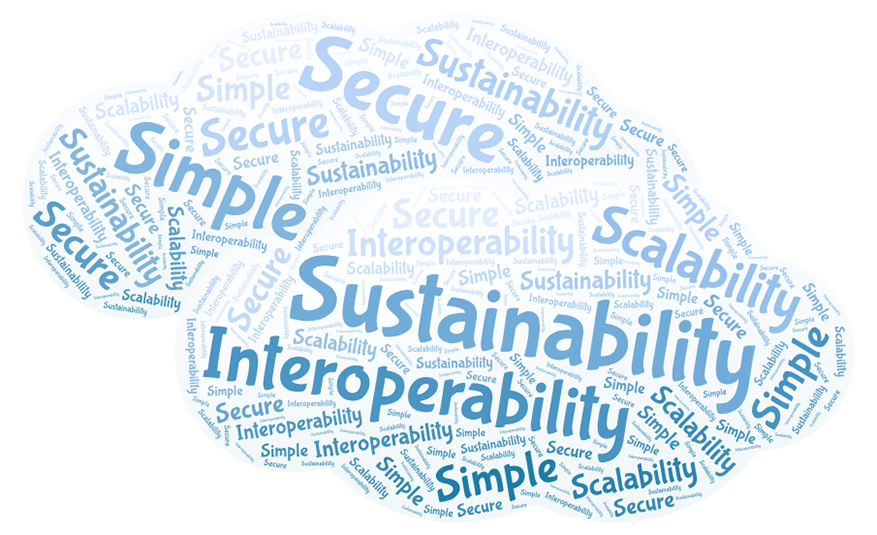 5 Considerations Before Your Next AV Upgrade
When thinking about deploying or upgrading your videoconferencing, collaboration, or presentation technology, what are the most important factors to consider before you start your search for the best solution? Perhaps you are thinking about video resolutions and the latest in 4K OLED display technology or video cameras. Or the differences between hardware or software-based solutions, or Video as a Service (VaaS) options that could be deployed. There are numerous questions to be answered about the features and functionality that are best suited to meet your organization's requirements; however, these five questions address a higher-level framework as a prerequisite for a successful deployment.
Let's start with Simple. While your presentation solution may be powered by complex technologies integrated together into a unique platform, for users to embrace and adopt collaborative solutions, they must be easy to use. Too often user interfaces are designed by engineers, for engineers, not the typical meeting participant. This injects a level of complexity by offering too many options and selections to users who simply want to display a PowerPoint or make a video or audio conference call. Whenever possible, the system should automatically select secondary options, so minimal user intervention is required beyond the initial selection. This starts with waking up the system when participants walk into the room. Making the system simple and easy to use is a key success factor for user adoption and pervasive usage across the enterprise.
Today all systems on the network must be Secure and aligned with your corporate IT network security profiles. Most major collaboration and presentation technologies are connected to the corporate LAN, VLAN, and ultimately the Internet. Corporations have established standards for network security to manage the risks from external and internal threats to devices, which include audio, video, and control signals utilizing the corporate LAN for connectivity. While every organization may have different requirements, engage your enterprise IT security office early so they can support your requirements and provide input before technology is deployed. Secure by design, not an afterthought.
Innovation in collaboration and presentation technologies has introduced new capabilities and features on a regular basis, not just once a year at InfoComm. Sometimes these new products are based upon emerging standards, promising early adopters an advantage in the features they offer. As one looks across the enterprise, internal and external communication requires standards for Interoperability. We all know the benefit from interoperability across various phone systems, PSTN, VoIP, 5G, and other platforms. The same applies to the design of enterprise collaboration platforms. This includes audio and video communications over the LAN and Internet where multiple standards are available to choose from, however select standards to maximize your interoperability, internally and externally.
In order for collaboration and presentation solutions to become pervasive and wildly popular as the first choice for team meetings and briefings, they need to have an architecture or platform that scales (i.e., support from a basic huddle room to a large, complex, divisible conference room with a common user experience that easily connects a team in D.C. to an all-hands conference call in San Francisco hosting a keynote speaker from an office in Toronto.) Scalability today frequently includes discussions about video dial plans and infrastructure products for bridging endpoints together within the enterprise, with clients, suppliers, or strategic partners. Video as a Service is a good solution to maximize your scalability with B2B connectivity, to meet in the Cloud instead of capital investments for premise solutions.
No matter what size enterprise deployment you manage, Sustainability for full lifecycle support services is critical to protect your corporate investment in collaborative presentation solutions. Unfortunately, we have all witnessed the agony of an executive briefing room full of C-level leadership waiting for a simple VTC call to start up. It doesn't matter what went wrong or how quickly you are able to recover, the first question is when was the last preventative maintenance checkup or service call to make sure everything was working as designed? No one wants to know how much money was saved by not having maintenance when critical communication systems fail. A broad range of life cycle support options are available to provide cost effective programs with Service Level Agreements (SLAs) to meet your specific needs. Having full lifecycle support of your system will also increase user satisfaction with systems that are operational and ready whenever the meeting starts.
Vision offers a unique service to help our clients find the right solutions and services for their organization. To help client maximize the value, minimize risk, and reduce the time for delivery, Vision offers a consultative approach to understand your business requirements and develop the right solution for YOU.
Check out our Integrated Technology Delivery™ (ITD™) methodology or contact us for more information.