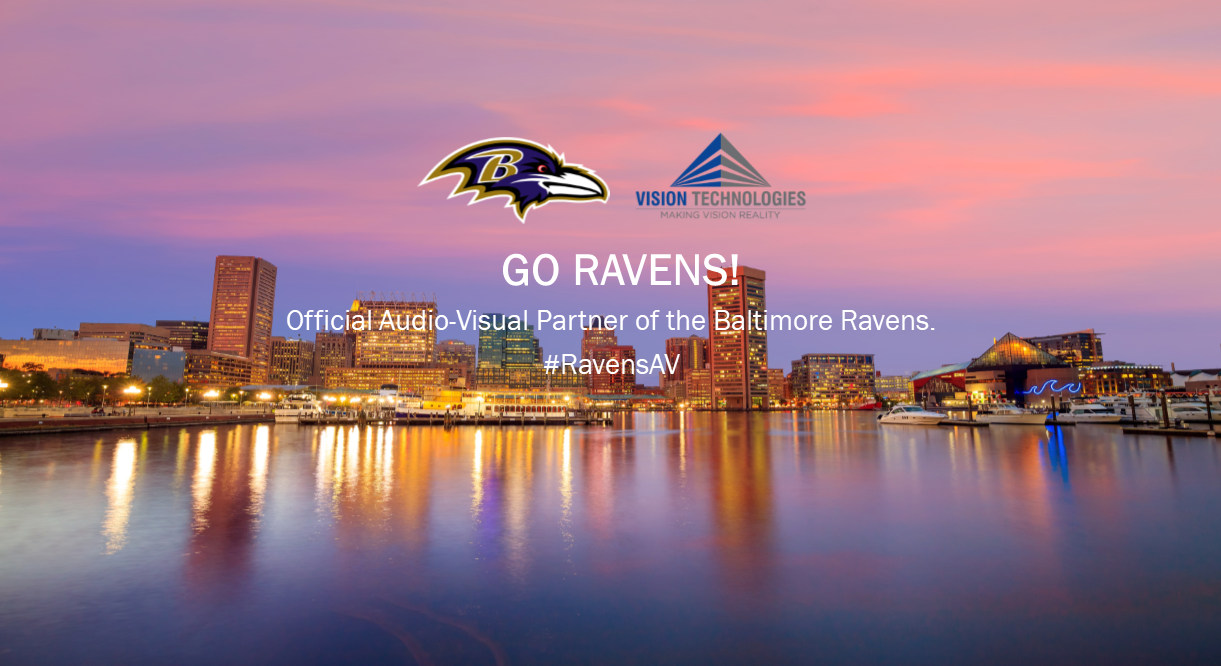 GLEN BURNIE, MD, November 19, 2018 – Vision Technologies, Inc. (Vision), a leading systems integrator with expertise in Audio-Visual Presentation and Collaboration solutions, is proud to announce that it is the Official Audio-Visual Partner of the Baltimore Ravens for the second year running. As a Ravens' partner, Vision has delivered a series of upgrades at M&T Bank Stadium and recently completed an upgrade for the Raven's Training Center, also known as the Under Armour Performance Center in Owings Mills, Maryland. In addition, Vision's security practice has helped to ensure the safety and security of M&T Bank Stadium.
A video highlighting some of the AV upgrades performed at M&T Bank Stadium is hosted on the Vision Technologies YouTube channel.
AV systems installed for the Performance Center include an auditorium, executive huddle rooms, meeting rooms, conference rooms, and common-area digital signage. The systems incorporate a solution that provides enterprise-wide capability to record audio and video for playback or distribution. Vision Technologies professional audio visual services team specializes in creating an unparalleled user experience that aligns with their customer's AV Presentation and Unified Communication and Collaboration (UCC) needs. 
"Since 2000, Vision Technologies has been dedicated to providing superlative customer service and experiences, delivering 100% customer satisfaction," stated Charles Crawford, AV Practice Manager. "We understand the necessity of collaborative and visual communication in today's highly competitive environments. Our work with the Raven's exemplifies delivering the right solution to meet the specific needs of the application. While both the Performance Center and M&T Bank Stadium use similar AV technology, they have been designed to meet the unique requirements for each environment. Both locations provide a high-performance visual experience that is simple to operate for any user."
 
About Vision Technologies, Inc.
Vision Technologies Inc., a systems integrator with national and global reach, is helping to reshape the way commercial clients and government agencies use technology to improve the quality and cost-efficiencies of services they deliver. Certified professionals design, engineer, install, support and sustain IP-converged technologies. Using its Integrated Technology Delivery™ (ITD™) methodology, Vision's specialties include high-performing industry certified Professional Services technical staff along with core Design-Build solutions for Security (IP Cameras/Access Control), Audio-Visual Systems, Wireless (WLAN and DAS), Low-Voltage Cabling, and Passive Optical Networks. Read more information about Vision at https://www.visiontechnologies.com/services/av.
Media Contact
Al Saxon
Sr. Vice President, Sales & Marketing
Vision Technologies, Inc.
[email protected]
410-691-3109
###