FOR IMMEDIATE RELEASE
GLEN BURNIE, MD, November 16, 2017 – Vision Technologies, Inc. (Vision), a leading systems integrator with a strong charitable foundation, supports the local community through programs such as Thanksgiving meals, Angel Tree (Adopt a Family), mentorship programs, and health and wellness programs for kids and families. Last week, the company discovered another opportunity to give back to the community – this time unexpectedly.
Demian Seeley, senior vice president of Vision's Program Management Office, signed up to run in the Harrisburg, PA Marathon on November 12. He wanted to use race day to raise additional awareness for Vision's adopted charity, Fellowship Outreach Corporation (FOC), and needed help. Just four days before the race, the charity team reached out to its employees offering a "Flash Opportunity to Give," asking whether they could sponsor the children for $1 per mile –  or $2 or more per mile, which would include a free Vision In The Community performance t-shirt.
From the start, the giving went viral. Vision's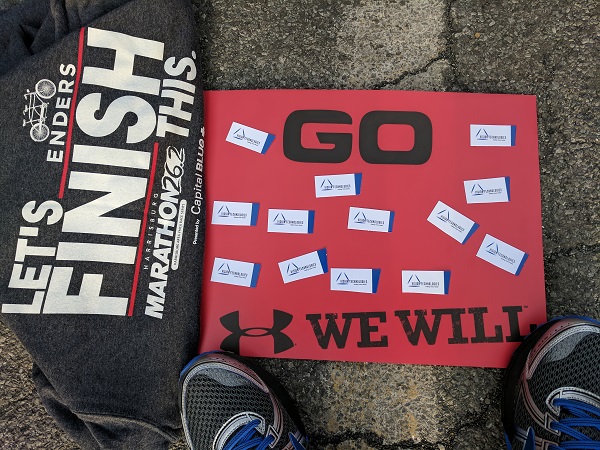 employees jumped in with donations from across the country which inspired Vision's management to provide matching funds. In addition, several other teammates challenged Demian with incentives based on his finish time. While it was a chilly 28-degrees at the start, it all worked out in the end. Demian ran the 26.2 miles in 3 hours, 35 minutes and 42 seconds, crushing his personal best by almost seven minutes. Just like that, Vision's employees had come together with support and compassion, raising nearly $17,000, bringing the current total to $44,000 for FOC.
President and CEO John Shetrone was proud and grateful, saying, "Thanks everyone for your support and for making giving a reality. We are making a difference in our community. I can't thank everyone enough for working to change the lives of those less fortunate."
About Vision Technologies, Inc.
Vision Technologies Inc., a systems integrator with national and global reach, is helping to reshape the way commercial clients and federal agencies use technology to improve the quality of services they deliver. Certified professionals design, engineer, install, support and maintain IP-converged technologies. Using Integrated Technology DeliveryTM (ITD™) methodology, Vision's specialties include Design-Build solutions for Security (IP Cameras/Access Control), Audio-Visual Systems, Wireless (WLAN and DAS), Low-Voltage Cabling, and Passive Optical Networks. Read more information about Vision at www.visiontechnologies.com
Media Contact information
Al Saxon
Vision Technologies, Inc.
530 McCormick Drive, Suite G
Glen Burnie, MD 21061
Phone: 410-691-3109
Fax: 410-424-2208
###