GLEN BURNIE, MD, September 18, 2018 – Vision Technologies, Inc. (Vision), a leading systems integrator announced today that its Wi-Fi and PON Installation for an Outdoor Multi-Use Development was recognized by the judges of the annual Cabling Installation & Maintenance Innovators Awards program. The judging panel consisted of cabling and communications system specifiers, designers, integrators and managers with vast professional experience.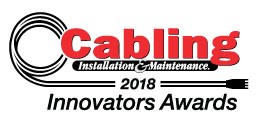 Vision was honored with a Platinum level award, the program's highest honors. Vision Technologies designed, installed, and commissioned a unified Wi-Fi and PON system for The Wharf, a mile-long, 24-acre, $2.2 billion mixed-use development along the Potomac River in Washington, DC. The system provides state-of-the-art, pervasive 802.11ac wireless services to residents, workers and guests traversing the outdoor, garage, and 6,000-person indoor-convert-venue areas. The entire implementation, testing and commissioning was accomplished on a fast-track, 30-day schedule. Passive Optical LAN helped The Wharf to overcome some specific challenges.
Vision's President and CEO John Shetrone accepted the award at the BICSI Fall Conference in San Antonio, Texas. After thanking the presenters from Cabling Installation & Maintenance and the other manufacturing nominees, Shetrone commented, "It's organizations like yours that add true value in the industry and we are honored to receive this prestigious award. We are proud of the work we did at the Wharf and grateful for the opportunity to provide an innovative solution to meet the challenges that lay before the development team to provide timely and quality connectivity to its customers."
Alan Bergstein, publisher of Cabling Installation & Maintenance (cablinginstall.com) said "This prestigious program allows Cabling Installation & Maintenance to recognize the most innovative products and leaders serving the structured cabling industry. Our 2018 Honorees are an outstanding example of companies who are making an impact in the industry."
The Innovators Awards are judged based on the following criteria:
Innovative
Value to the User
Sustainability
Meeting a Defined Need
Collaboration
Impact
The 2018 Cabling Installation & Maintenance Innovators Awards Honorees are featured in the
November Issue of Cabling Installation & Maintenance magazine as well as
on http://www.cablinginstall.com.

About Vision Technologies, Inc.
Vision Technologies Inc., a systems integrator with national and global reach, is helping to
reshape the way commercial clients and federal agencies use technology to improve the quality
of services they deliver. Certified professionals design, engineer, install, support and maintain
IP-converged technologies. Using Integrated Technology DeliveryTM (ITD™) methodology,
Vision's specialties include Design-Build solutions for Security (IP Cameras/Access Control),
Audio-Visual Systems, Wireless (WLAN and DAS), Low-Voltage Cabling, and Passive Optical
Networks. Read more information about Vision at www.visiontechnologies.com.

About Cabling Installation & Maintenance
Published since 1993, Cabling Installation & Maintenance has provided practical information to
professionals responsible for the specification, design, installation and management of
structured cabling systems in enterprises, data centers and campuses. Cabling Installation &
Maintenance's magazine, website (cablinginstall.com), email newsletters and webcasts help
cabling professionals improve day-to-day operations and enable strategic planning for their
networks' optimum long-term performance.

Media Contact information
Al Saxon
Vision Technologies, Inc.
530 McCormick Drive, Suite G
Glen Burnie, MD 21061
Phone: 410-691-3109
Fax: 410-424-2208

###