Insuring Cellular Service for a Device Insurance Company
The Vision Technologies team recently installed a distributed antenna system (DAS) for a privately held company based in the U.S. that provides insurance and tech care for smartphones, tablets, and consumer electronics worldwide. With tens of thousands of employees, hundreds of millions of consumers, and billions in annual revenue, this company turned to Vision to secure strong cellular service for its critical operations.

CHALLENGE

The client required seamless cellular and two-way radio service throughout their two-building, nine-story headquarters. Vision was responsible for designing, constructing, installing, operating, and maintaining a neutral-host distributed antenna system to be accessible by all commercial mobile radio service providers and all licensed spectrums. Our solution needed to furnish cellular voice, data coverage and bandwidth across all required areas, with a focus on the underground parking garage, indoor office space, and associated amenities. The 740,000 sq. ft. parking garage is six floors below grade.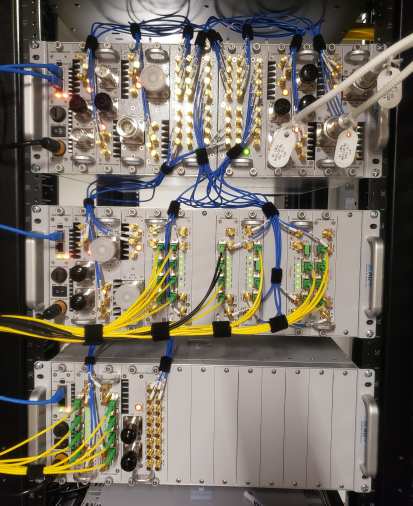 Solution
Vision provided a complete neutral-host distributed antenna system (DAS) and two-way radio (over UHF) system design and installation for this client. The ADRF-based DAS architecture supports enhanced AT&T Mobility and Verizon Wireless cellular service for 4,000+ users at the twin nine-story facility, and provides almost 1.3 million square feet of cellular coverage (nine above-ground floors and six lower levels). Vision continues to perform maintenance on the installed system under a separate silver-level Managed Service Center (MSC) contract.
For this effort, Vision provided complete lifecycle services, including site survey, design, procurement, wireless carrier negotiation, on-site installation, and field engineering, testing, and commissioning. Vision provided all active hardware components of this solution, including active DAS equipment, as well as antennas. The core components of the DAS were installed in a lower-level head end and consisted of three ADRF ADXV NMS-AC chassis in an MDF rack.
 
The head end is responsible for the transmit and receive signals across the coverage area in the building and is where the carriers signal is integrated onto the iDAS. Through fiber optic cable, the head end feeds all signals to and from the end users' phone via remote radios located throughout the coverage area.
Conclusion
Vision connected the head-end system to 22 ADRF Cellular ADXV remote units (RUs) throughout the building to a newly installed optical fiber backbone system consisting of two optical strands run to each RU. From the remote radios, the signal is evenly dispersed within the building through a coax/antenna cable plant providing optimal signal coverage. 
During commissioning and final acceptance, Vision not only performed testing and balancing of the system's signals, but also coordinated with individual carriers as they activated their RF signal sources and plugged them into the DAS head end. Vision is pleased to have been able to offer our services in support of what has become an integral part of day-to-day business.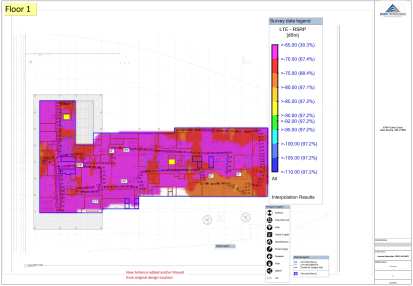 Benefits of DAS
Provides seamless wireless indoor coverage
Supports the latest carrier frequencies
Eliminates dead zones and spotty coverage
Scalable for future capacity requirements
Industry Leading Partners
Vision is proud to be backed by a team of highly certified professionals and top industry technology manufacturers. On this project, we thank ADRF and CommScope for providing a successful solution.