Case Study: PON in Manufacturing Campus
Vision Technologies performed a multi-phase, passive optical network installation at the corporate headquarters of an iconic global leader in the food and beverage industry. A Passive Optical LAN or OLAN, is a fiber-based IT infrastructure that combines the best of standards-based Passive Optical Network (PON) and advanced enterprise Ethernet technologies. The five main pieces of an Optical LAN system are the Optical Line Terminal (OLT), Single-Mode Fiber (SMF) cabling, Passive Optical Splitters, Optical Network Terminal (ONT), and Passive Optical Network Manager. 
CHALLENGE 
Like many companies, this client wanted to create a next-generation workplace and enterprise IT transport to handle a flex workforce, regardless of the onsite employee count. It was necessary to network the seven-building campus totaling over 450,000 square feet of office space from hardwire to wireless in the most energy-efficient, cost-effective manner due to the client's green initiatives.
SOLUTION 
The passive optical network solution was based on Tellabs PON architecture and OCC optical fiber plant cable with CommScope terminations interconnecting the seven buildings. Over 400 optical network terminals and 400 wireless access points were installed across all buildings by project completion. The headquarters was already a LEED Platinum-certified facility (green/energy efficient), and the migration to PON will further help the company in the LEED category of energy utilization. A PON-based network can save 40-50% on energy usage over a comparable switch-based network. Additionally, a PON system uses less physical space for network equipment, has a longer service life, and is more secure from tampering and surveillance.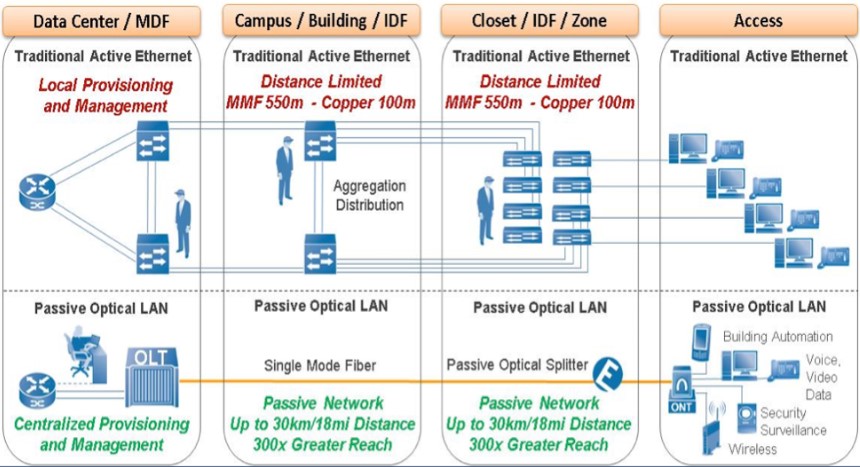 Read the full case study here.