Are you aware of the new ban on select Chinese security cameras?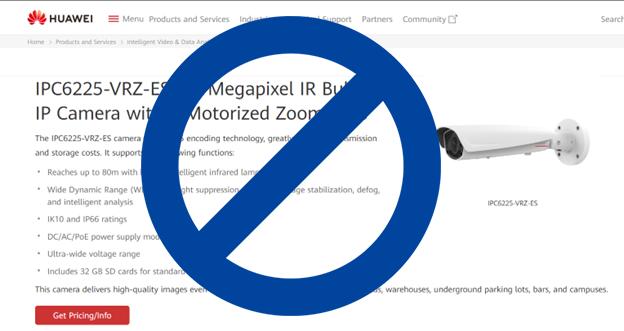 On December 6, Maryland announced an emergency directive to prohibit China and Russia based products and platforms in state government. 
While only state agencies are required to remove these products from state networks, implement measures to prevent installation of these products, and implement network-based restrictions, we encourage all Maryland based companies to proactively rethink their security camera providers this year.
The Federal Communications Commission (FCC) has also banned the import or sale of Chinese telecoms and video surveillance products across the United States through the Secure Equipment Act. This includes the following Chinese suppliers:
Huawei

ZTE

Hytera Communications

Hikvision

Dahua
This ban applies to equipment designed 'for the purpose of public safety, security of government facilities, physical security surveillance of critical infrastructure, and other national security purposes'. This includes Huawei brand cameras and many other common brands that are powered by Huawei's HiSilicon chipset.
These entities present an unacceptable level of cybersecurity risk, and may be involved in activities such as cyber-espionage, surveillance of government entities, and inappropriate collection of sensitive personal information.
Don't let your security efforts fall into the wrong hands.
Could your security system be compromised by devices that are named in these bans? Contact one of our solutions experts today to find out how you can install a safe alternative in 2023.
Free Assessment
Fill out the contact box or call us at 866.826.6142 to schedule a free assessment with one of our solutions experts. We will develop a fully customized plan that will help you overcome your unsafe security camera challenges.
Vision's Integrated Security Solutions
Access Control & Asset Tracking
Video Surveillance/Management
Intrusion Detection
Asset Management/RTLS
Analog to IP Migration
Visitor Management 
From inception, Vision's certified security professionals work with clients to define the best fit, best value solution based on industry practices. Our systems have the capacity to grow along with you, allowing for seamless integration of video surveillance or access control as needed, including the ability to control security systems remotely, receive critical alerts, or view live video of your business from any location on your mobile device.
Customer Feedback
"Just wanted to let you know that everything is up and running! Your technicians did a stellar job and their customer service was impeccable!"

Matthew R.
CRTKL
OUR TRACK RECORD
50+
Fortune 500 Clients Serviced
137+
 Industry Leading Certifications
Our approach & benefits
We understand how it feels to be overwhelmed and intimidated by daunting technology challenges. Technology should have an easy button.
That's why with more than two decades of experience backed by our team of highly certified customer service driven professionals and top industry technology manufacturers, Vision Technologies stands ready to help you solve all of those technology upgrade challenges with a patented Integrated Technology Delivery (ITD®) methodology designed to save you time and money. Our culture is driven by passion and dedication. Because: Your success = Our success. 
Powered by knowledge, research, and certifications, we serve Fortune 500 and emerging organizations across industries and geographies to transform their business ecosystems and achieve superior performance.
Fill out the contact box today to discuss solutions to your specific needs. 
Our Certifications