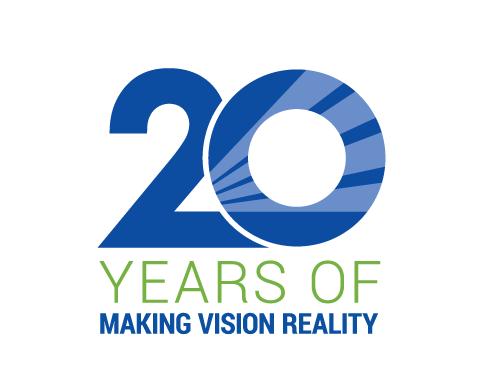 GLEN BURNIE, MD, May 1, 2020 – Vision Technologies, Inc. (Vision), a leading network integrator with national and global reach, celebrates 20 years of providing IP-converged technologies. The company offers Internet of Things (IoT) solutions for Audio Visual, Security, Wireless, Intelligent Buildings, as well as Network Infrastructures and Professional Services, plus post-implementation support for commercial, federal, state and local clients across all 50 states and on three continents.
Since its inception in May 2000 from a room above a garage along the Magothy River, with a vision of building a unique culture focused on its teammates and customers, Vision Technologies is making that vision reality. Today, the IP-centric technology company has grown to five practices focused on delivering to its customers and the opportunity to have one company that can support all their IP technology needs. This diverse technology offering has provided a balanced portfolio which has contributed to the exceptional organic growth the company has experienced. Led by serial entrepreneur, John Shetrone, Jr., and his partner, Kevin Nolan, Vision closed its first year with revenue of $800,000 and 10 employees. Last year, the company reached over $1 billion in aggregate revenue since inception. Now, 20 years later, Vision employs over 550 people in 25 states with a projected revenue of $150 million this year.
As a result of its success, the company has outgrown its corporate headquarters and recently relocated to a larger facility in Glen Burnie, Maryland. The 57,000 square foot building is equipped with the latest AV, security, wireless, and network infrastructure solutions, all of which showcases many of the innovative technologies Vision provides.
"Our Vision from the beginning was to build a company that we all could be proud of. As I reflect on our 20 years, I am so proud of our team for what we have accomplished together, the company we have built, and the impact we are having in our markets and communities," stated CEO John Shetrone. "It has been an amazing journey and one that I am proud to say I have shared with so many from the very beginning. We are fortunate to have built a successful business and to celebrate 20 profitable years of growth especially during the uncertain times we have faced in the past and now face in the present."
Due to the outbreak of the coronavirus, commemorative events have been postponed, but employees are still hard at work. As an essential critical infrastructure company, Vision continues to support its customers and their continuity of operations plans by taking proper precautions on job sites and working remotely. Vision has also chosen to celebrate its anniversary safely and remotely, leveraging its collaborative video-conferencing solutions until it is safe to reschedule events. Read more about the 20th anniversary and move at www.visiontechnologies.com/anniversary.
About Vision Technologies, Inc.
Vision Technologies Inc., an IoT systems integrator with national and global reach, is helping to reshape the way commercial clients and government agencies use technology to improve the quality and cost-efficiencies of services they deliver. Certified professionals design, engineer, install, support and sustain IP-converged technologies. Using its Integrated Technology Delivery™ (ITD™) methodology, Vision's specialties include high-performing industry certified Professional Services technical staff along with core Design-Build solutions for Security (IP Cameras/Access Control), Audio-Visual Systems, Wireless (WLAN and DAS), Low-Voltage Cabling, and Passive Optical Networks. Read more information about Vision at www.visiontechnologies.com. 
Media Contact
Al Saxon
Sr. Vice President, Sales & Marketing
Vision Technologies, Inc.
[email protected]
410-691-3109
###