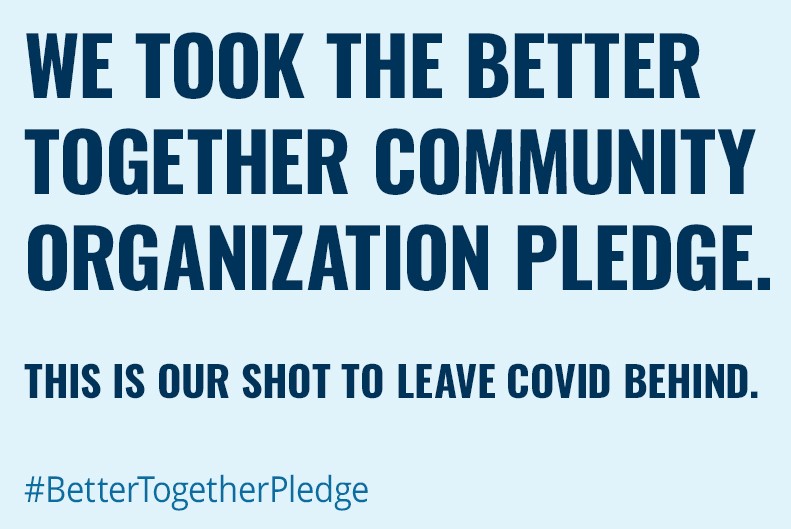 GLEN BURNIE, MD, March 29, 2021 – Vision Technologies (Vision), a leading network integrator with national and global reach, has signed the CareFirst BlueCross BlueShield "Better Together" pledge. The pledge was launched to unite communities by committing organizations to help educate and encourage people living throughout Washington, D.C., Maryland, and Northern Virginia about the importance of getting the COVID-19 vaccine.
The pledge requests organizations to commit to the following:
Continue to prioritize health and safety.

Listen and communicate openly, regularly and with empathy.

Lead by example.
Al Saxon, Vision's Senior Vice President of Sales and Marketing noted, "As soon as I found out about the pledge, I knew there would be no question regarding Vision's participation. Vision has been a leader in fighting COVID since the pandemic started. From supporting our teammates with PPE, safety procedures and disciplines, through creating touchless building entry systems to scan for facemasks and elevated skin temperature, we have led in the battle against this disease. Encouraging our teammates and community to get vaccinated is the next logical step in the process to overcome the pandemic."
Vision invited employees to pledge their willingness to get the vaccine when eligible, giving them the appropriate time off to do so. The program will continue for the safety of Vision teammates and customers whether working on site or remote. On behalf of each organization signing the pledge by March 31, 2021, CareFirst will contribute $1,000—up to $1 million—to support several regional community organizations on the frontlines of the vaccine effort. Visit carefirst.com/bettertogetherpledge for more information.
About Vision Technologies
Vision Technologies, an IoT systems integrator with national and global reach, is helping to reshape the way commercial clients and government agencies use technology to improve the quality and cost-efficiencies of services it delivers. Certified professionals design, engineer, install, support, and sustain IP-converged technologies. Using its Integrated Technology Delivery (ITD®) methodology, Vision's specialties include a high-performing, industry-certified Professional Services technical staff along with core Design-Build solutions for Security (IP Cameras/Access Control), Audio-Visual Systems, Wireless (WLAN and DAS), Low-Voltage Cabling, and Passive Optical Networks. Read more information about Vision at www.visiontechnologies.com.
Media Contact
Owen Meeks
Vice President
Marketing & Strategic Channel Alliances
Vision Technologies
[email protected]
443-557-6261