GLEN BURNIE, MD, December 18, 2017 – Vision Technologies, Inc. (Vision), a leading systems integrator has been recognized by System Contractor News (SCN) as one of the Top 50 AV Systems Integrators for 2017. SCN has been compiling the list for more than 10 years and releases the results each December.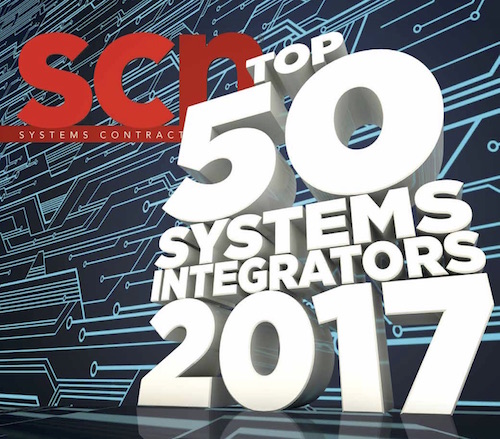 The Top 50 Systems Integrators list is based on each company's revenue for commercial AV system design and installation, as well as its total revenue for the current year. To be eligible for consideration, a company's revenue for commercial AV system design and installation must account for more than 50 percent of its total revenue.
According to Charles Crawford, AV Practice Manager, "This is a great accomplishment for Vision to make the Top 50 list again and is a testament to the outstanding team we have. Our success has been built upon delivering the best AV solutions to marquee clients, such as CareFirst, Raging Wire, Washington Gas, FDA, U.S. Securities and Exchange Commission, Medimmune/BUCH, General Dynamics, DC Bar, George Washington University, Johns Hopkins, and many others."
SCN noted the audio-visual industry has grown considerably from last year, with a projected $4.27 billion in commercial AV installation revenue. The Top 50 is just one way to view an industry where success is determined by more than mere numbers. Vision is honored to be among the leaders.
About Vision Technologies, Inc.
Vision Technologies Inc., a systems integrator with national and global reach, is helping to reshape the way commercial clients and federal agencies use technology to improve the quality of services they deliver. Certified professionals design, engineer, install, support and maintain IP-converged technologies. Using Integrated Technology DeliveryTM (ITD™) methodology, Vision's specialties include Design-Build solutions for Security (IP Cameras/Access Control), Audio-Visual Systems, Wireless (WLAN and DAS), Low-Voltage Cabling, and Passive Optical Networks. Read more information about Vision at www.visiontechnologies.com
Media Contact information
Al Saxon
Vision Technologies, Inc.
530 McCormick Drive, Suite G
Glen Burnie, MD 21061
Phone: 410-691-3109
Fax: 410-424-2208