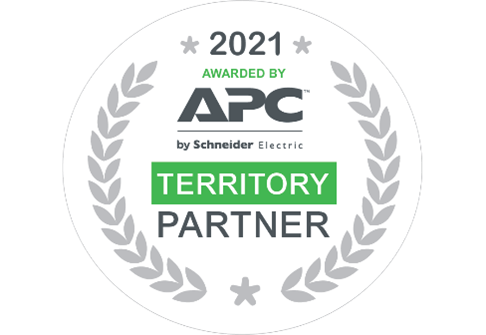 Glen Burnie, MD, April 28, 2022 – Vision Technologies (Vision), a leading national systems integrator, today announced its selection by APC by Schneider Electric as 2021 Territory Partner of the Year. Now in its seventh year, the Territory Partner of the Year awards recognizes companies that are evolving their approaches to technology to ensure the infrastructure and networks needed to support customer needs remain secure and safe.
"Here at Vision Technologies we are dedicated to ensuring our customers have the infrastructure in place to power the digital world," said Vision Technologies President Kevin Nolan. "I am incredibly proud to be selected as an APC by Schneider Electric 2021 Territory Partner of the Year. It shows the strength of our team, the quality of our work, and the premier channel partnerships we have in place to deliver powerful, integrated solutions for customers."
"This year's winners went above and beyond by demonstrating significant dedication to innovation and growth," remarked APC by Schneider Electric Vice President, Channels-North America Shannon Sbar. "We are proud to work with partners across the U.S. who are committed to not only meeting customer expectations but exceeding them. Congratulations to the 2021 APC by Schneider Electric Territory Partner of the Year award recipients."
Vision is among 18 companies being recognized for outstanding performance and growth in their work with APC by Schneider Electric. APC by Schneider Electric and Vision have developed a growing partnership for over 20+ years.
About Vision Technologies
Vision Technologies, a national Internet of Things (IoT) systems integrator, is helping to reshape the way commercial clients and government agencies use technology to improve the quality and cost-efficiencies of services they deliver. Certified professionals design, engineer, install, support, and sustain IP-converged technologies. Using its Integrated Technology Delivery (ITD®) methodology, Vision's specialties include high-performing, industry-certified Professional Services technical staff along with core Design-Build solutions for Security (IP Cameras/Access Control), Audio-Visual Systems, Wireless (WLAN and DAS), Low-Voltage Cabling, Passive Optical Networks, and Data Center expertise. 
About APC by Schneider Electric
APC has become the industry-standard for reliable power and physical IT infrastructure. We believe data and connectivity are crucial for business success. Our solutions ensure they're available when and where you and your customers need them. It's how we provide Certainty in a Connected World. Any vendor can simply sell you products. With us, you get comprehensive tools and resources, a robust partner network, and an unparalleled reputation for excellence. From battery backups that safeguard against outages at home, to full-scale data center infrastructure, our offers can help your home and business become more efficient, reliable, and connected. Learn more at www.apc.com.
###