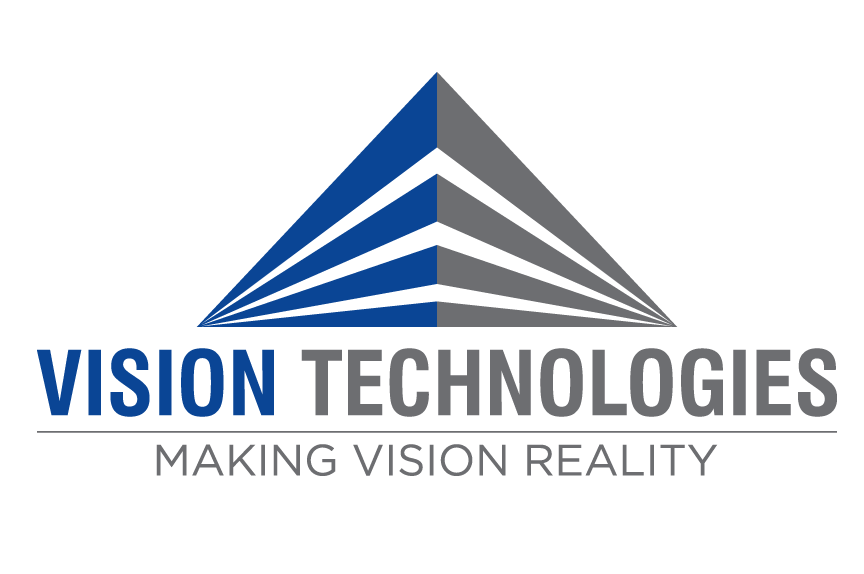 FOR IMMEDIATE RELEASE
GLEN BURNIE, MD, May 8, 2018 – Vision Technologies, Inc. (Vision), a leading systems integrator, announces the unveiling of a new corporate brand and logo. The rebranding represents the successful transition from past to present, and the evolution of the Vision culture.
The logo selection process involved a high level of participation, enthusiasm, and engagement throughout the company. With an overwhelming majority of the votes going to two logos that were similar in design, Owen Meeks, Vice President of Marketing & Strategic Channel Alliances, worked with the artist to make minor changes to reflect the best of both designs.
Feedback from teammates during the final logo selection process include the following:
   "The triangle embodies stability and implies balance."
   "The straight lines and precise logo shape imparts strength, professionalism, and efficiency."
   "The triangle has dimension so that it could subtly represent a building or perhaps a data center."
It also conveys upward momentum and has a pinnacle effect. Ultimately, upon final review, Vision's management team felt, "This logo truly embodies our culture and the company that we're building."
The updated logo is just the beginning of a new marketing campaign and it is being incorporated in print and digital format with "Making Vision Reality" as its tagline. 

About Vision Technologies, Inc.
Vision Technologies Inc., a systems integrator with national and global reach, is helping to reshape the way commercial clients and federal agencies use technology to improve the quality of services they deliver. Certified professionals design, engineer, install, support and maintain IP-converged technologies. Using Integrated Technology DeliveryTM (ITD™) methodology, Vision's specialties include Design-Build solutions for Security (IP Cameras/Access Control), Audio-Visual Systems, Wireless (LAN/WLAN and DAS), Network Infrastructure, and Passive Optical Networks. Our professional services team provides O&M, help desk, on-site support and our Managed Services Center provides 24X7 support for all our service offerings. Read more information about Vision at www.visiontechnologies.com.

Media Contact information
Al Saxon
Vision Technologies, Inc.
530 McCormick Drive, Suite G
Glen Burnie, MD 21061
Phone: 410-691-3109
Fax: 410-424-2208