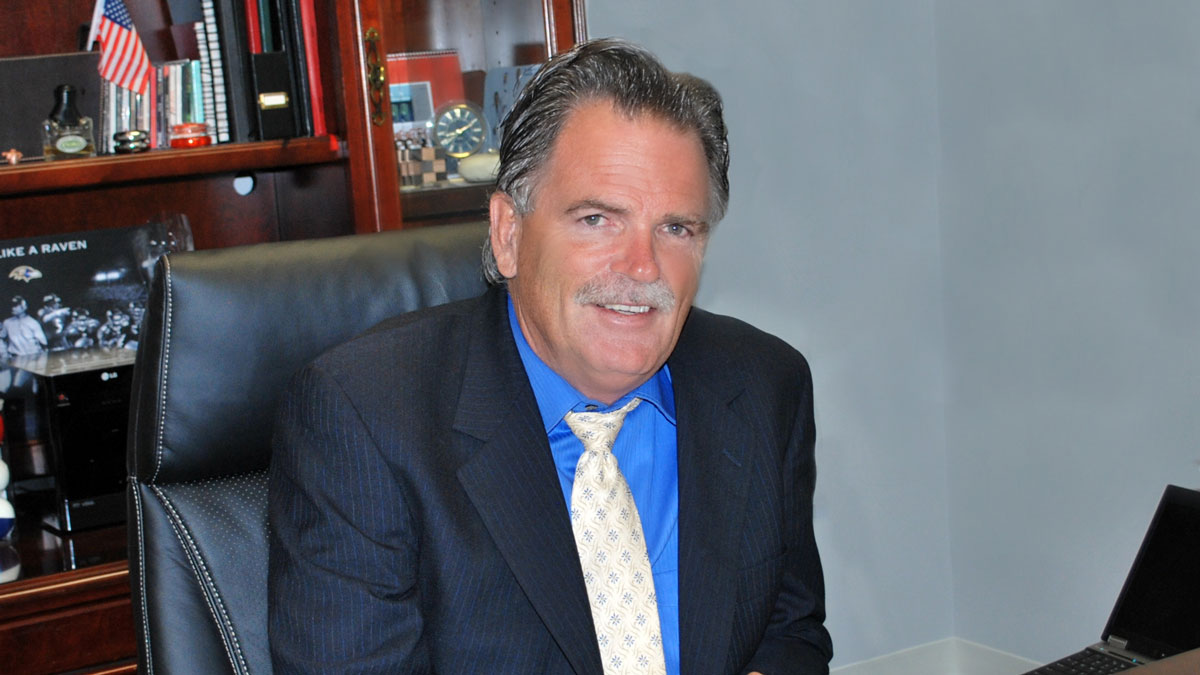 For three decades, Shetrone's leadership has been innovative and instrumental in the telecommunications and technology integration industry
GLEN BURNIE, MD, June 14, 2022 – Vision Technologies (Vision), a leading national systems integrator, announced the June retirement of John Lee Shetrone, Jr., founding President and CEO, following a Vision Technologies Town Hall meeting. Shetrone, a serial entrepreneur, founded Vision in May 2000 from a room over his garage and strategically drove its exceptional growth over the past 22 years.
Shetrone brings over three decades of executive experience to the service sector with his innovative approach to the information and IP technologies sectors. He started his first company, Universal Interfaces out of his basement, which provided the starting point for his next company, The Apex Group where he served as co-founder and principal. The Apex Group was a network integration company incorporated in 1987 and sold to ADC Telecommunications in 1997.
Shetrone holds a BS in Electrical Engineering Technologies from Capital College and a Master of Administrative Sciences with a concentration in Information Technologies from Johns Hopkins University. Shetrone was also an early supporter of Building Industry Consulting Services International (BICSI) and held an early certification as a BICSI Registered Communications Distribution Designer, one of the most respected technical certifications in the telecommunications industry. He also authored one of the original chapters of the BICSI Telecommunications Distribution Methods Manual. Under his tenure at Vision, Vision has grown from 10 employees and revenue of $800,000 in 2000 to more than 600 employees in 25 states and $153.1 million in revenue in 2021, with a goal of exceeding $200 million over the next couple years. He recently spearheaded the new company headquarters in Anne Arundel County and continues to expand office locations across the country. Under his leadership, Vision has won and delivered $1.5 billion dollars total in technology business across its six IP-centric business unit portfolio.
"From the start we wanted to build company that was unique and different, one that would differentiate the company in the market, and provide our customers and teammates with one company that could service a wide range of IP Centric Technologies and provide our teammates with opportunities for growth," Shetrone commented. "As I reflect over my life at Vision, I am so proud of my partners and our team for what we have accomplished together. Our tag line of 'Making Vision Reality' has always been about making vision reality for our customer and for my teammates. I am proud to have watched so many people grow with me over the course of our careers."
Shetrone's success in attracting and retaining employees was documented in the Journal of the American Management Association. He has been recognized as a local business leader by SmartCEO Magazine and the Baltimore Business Journal, named CEO of the Year by the Maryland Tech Council, and named runner up for the Ernst & Young Entrepreneur of the Year. Under his leadership, the company has been ranked numerous times in the INC 5000, Baltimore Business Journal, Cabling Installation & Maintenance Magazine, Systems Contractor News, and been recognized by CRN Magazine as a national top 20 value-added reseller, among numerous other awards.  
"While John's journey from startup entrepreneur to corporate executive is an impressive story, we cannot overlook his impact as a job creator," said Anne Arundel County Executive Steuart Pittman. "Vision Technologies' growth created hundreds of new jobs to benefit Anne Arundel residents and gave John and his team opportunities to showcase the importance of creating a vibrant team-oriented workplace."
Over the years, Shetrone has dedicated his time and influence back to the business community in Maryland, serving for years on numerous boards of directors such as the Maryland Technology Development Corporation where he was appointed by Governor Larry Hogan, the Chesapeake Innovation Center, and the Anne Arundel Economic Development Corporation (AAEDC). Vision also established the Anne Arundel Community College John L. Shetrone, Jr. Scholarship in early 2020. The scholarship further cemented this commitment and supported local Anne Arundel Community College students through their educational studies and path toward a successful career. His commitment to the growth of individuals through education has developed industry leaders and resulted in Vision Technologies being recognized as one of the largest technology employers in the region and a destination employer offering opportunities to grow. Through Sherone's "Making Giving Reality" efforts, Vision will have donated an estimated $550,000 in charitable funding to numerous organizations across the nation since company foundation by the end of this year.
"In the almost ten years that John served on the AAEDC Board, he provided valuable feedback on many initiatives that we implemented to better serve businesses in our county," said Ben Birge, AAEDC CEO. "He had a unique perspective as a home-grown entrepreneur and through his many connections.  We are grateful for his insight that contributed to making our county a great place to do business."
"I am proud of the impact our company and team has had on our communities through our 'Making Giving Reality' initiatives," Shetrone added. "When I think of my success, it is measured by my team's success. I have always believed that I only win when the team wins, and I have tried to lead Vision that way. The success of my company and myself is directly related to my partners and my Vision teammates who have supported me and the vision we share, and who deliver day in and day out on the company's mission of a World Class Customer Experience with a goal of Customer for Life. They accomplish that goal and more by Living Our Vision Culture. I am proud of the Vision Culture that we all created as it unites us in a common mission, has been our competitive differentiator in the market, and has had a positive impact on our performance and quality of work life. The Vision Culture we created is one of the things I am most proud of and believe it is key to both the company and my success."
Shetrone, a Service-Disabled Veteran, closes out his career with the latest announcement of the largest contract award in Vision history through the recently awarded subcontract by prime contractor Leidos for the Advanced Enterprise Global Information Technology Solutions (AEGIS) contract in support of the National Aeronautics and Space Administration (NASA). The agencywide information technology and communications services contract has a total value of approximately $2.5 billion and extends through 2031 if all options and award terms are exercised.
"I am truly honored to have developed as a leader under John Shetrone for more than three decades, having served under him at Apex Group as well as a co-founder of Vision" said Vision Technologies President Kevin Nolan. "Vision is the thriving company it is today because of his passion and leadership. Vision will continue to create jobs, build careers and deliver world class customer experiences because of the strong foundation John built. He has been the driving force of our culture and our successes, and I look forward to continuing in his footsteps."
Vision Technologies President Kevin Nolan will continue to lead Vision upon John's retirement.
About Vision Technologies
Vision Technologies, an Internet of Things (IoT) systems integrator with national and global reach, is helping to reshape the way commercial clients and government agencies use technology to improve the quality and cost-efficiencies of services they deliver. Certified professionals design, engineer, install, support, and sustain IP-converged technologies. Using its Integrated Technology Delivery (ITD®) methodology, Vision's specialties include high-performing, industry-certified Professional Services technical staff along with core Design-Build solutions for Security (IP Cameras/Access Control), Audio-Visual Systems, Wireless (WLAN and DAS), Low-Voltage Cabling, and Passive Optical Networks. Read more information about Vision at www.visiontechnologies.com.
###