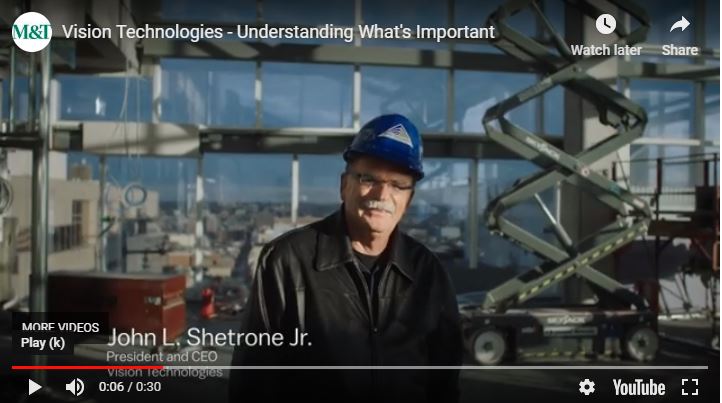 GLEN BURNIE, MD, February 5, 2019 – Vision Technologies, Inc. (Vision), a leading systems integrator with national and global presence, shared its customer story in M&T Bank's "Understanding What's Important" campaign launched during the Super Bowl.
Founded in a garage in 2000 with five employees, Vision Technologies first received an initial line of credit from M&T Bank to help foster growth. Today, the company has five business units and 500 employees, with clients like Discovery, M&T Bank Stadium, and the United States Senate. Vision Technologies is also the audio-visual provider for the Baltimore Ravens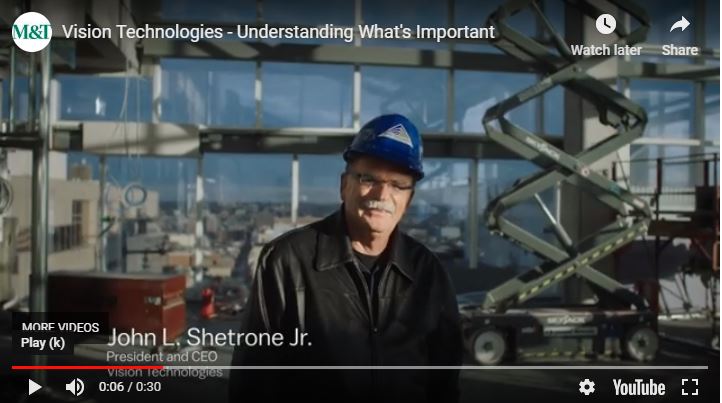 Vision President and CEO John Shetrone stated in the 30-second commercial, "We do a lot of (work for) large Fortune 100 companies on a national basis. As the company has grown, M&T has continued to change their relationship with us and grow with us. M&T has been a great business partner."
"At M&T Bank, we pride ourselves on understanding what's important to our customers, their businesses, families, and communities," said M&T Bank Chief Marketing Officer Peter J. Eliopoulos. "Being large enough to offer our customers competitive solutions, while still remaining community-focused, allows us to help our clients achieve their goals and visions at every stage of their life. Our newly launched advertising campaign features the success stories of actual clients whose dreams were able to become a reality with the support of M&T."
The commercial aired Sunday, February 3 as part of the Super Bowl coverage on CBS in the local feeds. It ran with other commercials starting the following day on all the local broadcast networks and will continue to run on CBS, NBC, ABC and FOX this year.
About Vision Technologies, Inc.
Vision Technologies Inc., a systems integrator with national and global reach, is helping to reshape the way commercial clients and government agencies use technology to improve the quality and cost-efficiencies of services they deliver. Certified professionals design, engineer, install, support and sustain IP-converged technologies. Using its Integrated Technology Delivery™ (ITD™) methodology, Vision's specialties include high-performing industry certified Professional Services technical staff along with core Design-Build solutions for Security (IP Cameras/Access Control), Audio-Visual Systems, Wireless (WLAN and DAS), Low-Voltage Cabling, and Passive Optical Networks. Read more information about Vision at www.visiontechnologies.com.
About M&T Bank
M&T Bank Corporation is a financial holding company headquartered in Buffalo, New York. M&T's principal banking subsidiary, M&T Bank, operates banking offices in New York, Maryland, New Jersey, Pennsylvania, Delaware, Connecticut, Virginia, West Virginia and the District of Columbia. Trust-related services are provided by M&T's Wilmington Trust-affiliated companies and by M&T Bank. https://www.mtb.com
###