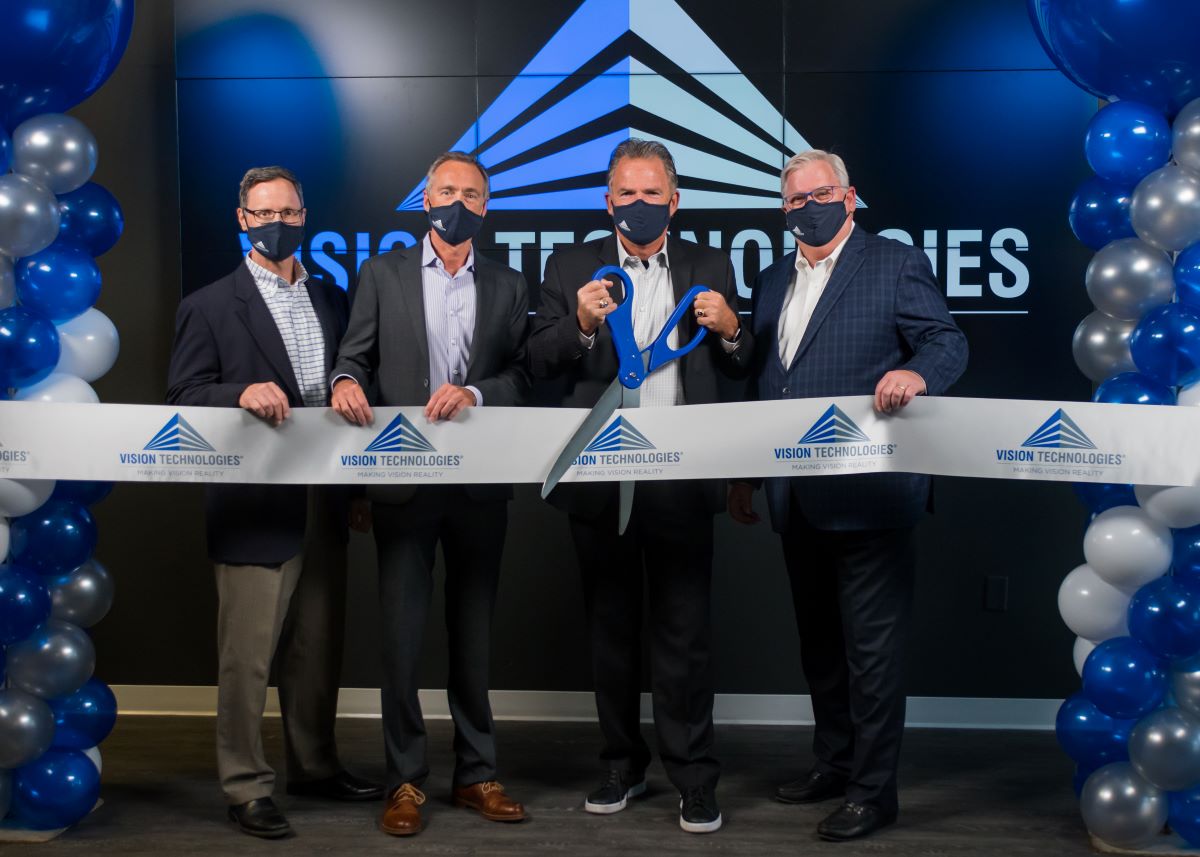 GLEN BURNIE, MD, October 28, 2020 – Vision Technologies, Inc. (Vision), a leading network integrator with national and global reach, celebrated the opening of its headquarters together with its 20th anniversary this month. Due to the unique challenges of 2020, the dual celebration had been rescheduled several times but presented the opportunity to get creative with an exciting virtual celebration on Thursday, October 22.
It was a phenomenal event with remarks and historical perspectives from Vision's owners: CEO John Shetrone, President Kevin Nolan, Sr. Vice President Al Saxon and Chief Financial Officer Mike Quade. Messages from state and local politicians, special guests, shoutouts from channel partners, a virtual tour of the 57,000 square foot building, and a look at some of Vision's longest tenured teammates added to the festivities. Among the special guests, Vision was honored to hear remarks from federal, state, and local delegations and leadership, including Senator Ben Cardin, Congressman Dutch Ruppersberger, County Executive Steuart Pittman, Councilwoman Sarah Lacey, President/CEO Ben Birge (AAEDC), and Secretary Kelly Schulz and Senior Business Development Representative Lori Ratzburg (Department of Commerce).
To commemorate the occasion, Vision had special 20th anniversary coins designed and manufactured for its teammates. Before the ribbon cutting, Al Saxon commented, "We are celebrating this 20th anniversary because of all you – our Vision team, customers, channel partners, Anne Arundel County, the state of Maryland – and we are truly grateful for it. We challenge you to take Vision to the next 20 years. Thank you for believing in us and Making Vision Reality!"
A virtual happy hour followed the livestream. Although this was a virtual event, it was still a great opportunity to come together to celebrate our collective success, growth, and culture as One Vision. The Ribbon-Cutting and 20th Anniversary celebration was recorded and can be viewed on YouTube.
About Vision Technologies, Inc.
Vision Technologies, a national network integrator, has developed a series of Return to Work solutions in response to the new digital transformation challenges. Its Screening, Protection & Tracing (SPT) Solutions and Touchless Visual Communication & Collaboration (TVCC) Solutions help customers return to work safely and securely. A financial solution has been developed for protection against unplanned expenditures.
Certified professionals design, engineer, install, support, and sustain IP-converged technologies. Using its Integrated Technology Delivery (ITD®) methodology, Vision's specialties include a high-performing, industry-certified Professional Services technical staff along with core Design-Build solutions for Security (IP Cameras/Access Control), Audio-Visual Systems, Wireless (WLAN and DAS), Low-Voltage Cabling, and Passive Optical Networks. Read more information about Vision at www.visiontechnologies.com.
###