Webinar
HEAR FROM INDUSTRY EXPERTS - Vision Moderates Panel Discussion on 5G   
Join Maryland Technology, a division of the Maryland Tech Council, for the second annual virtual Digital Transformation Summit on March 24 + 25, 2021. Registration is complimentary for all attendees.
This year's event will focus on the new normal we have been faced with and how businesses are using digital transformation to adapt to the new reality. Attendees will hear from leaders in the technology industry on how they are solving problems related to digital transformation and their takeaways of top challenges and opportunities over the past year.
Attendees will have the opportunity to join panel sessions led by industry experts, hear from keynote speakers, meet with solution providers in the virtual exhibit hall to gain insights into new technologies, and make connections with their fellow attendees using virtual networking tools.
JOIN VISION ON DAY 2 • THURSDAY, MARCH 25, 2021
11:20 AM to 12:20 PM | Session D
5G and Emerging Technologies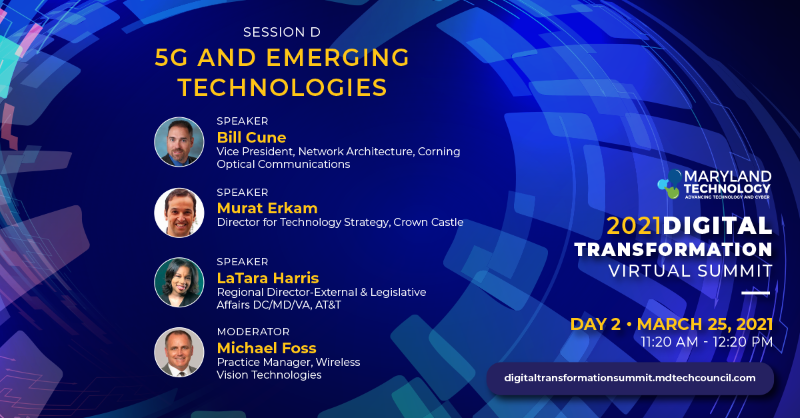 5G has the capability to revolutionize the technology industry with improved network capacity and speed. How will 5G impact other emerging technologies such as telehealth, autonomous cars and smart cities? Join this session to find out how 5G can unlock innovative technologies, create new jobs and boost the economy.
Speakers:
Bill Cune, Vice President, Network Architecture, Corning Optical Communications
Murat Erkam, Director for Technology Strategy, Crown Castle
LaTara Harris, Regional Director-External & Legislative Affairs DC/MD/VA, AT&T
Moderator:
Michael Foss, Practice Manager, Wireless, Vision Technologies
See you virtually!