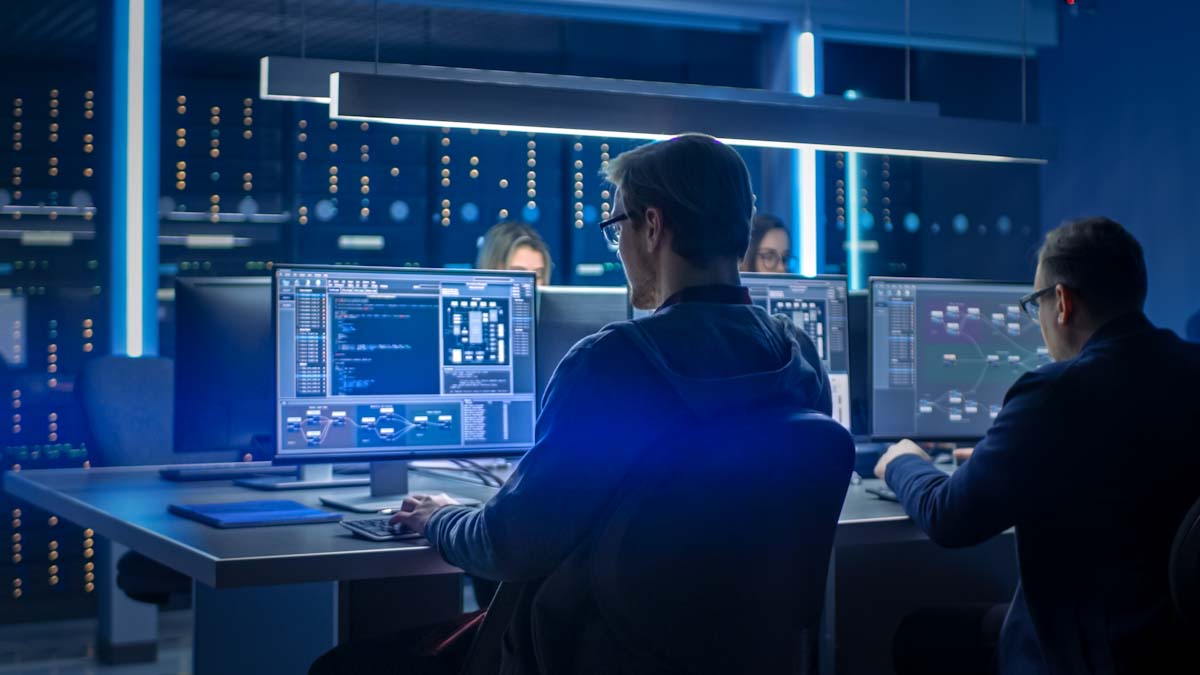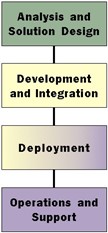 Information Technology solutions in have much the same lifecycle in and out of the data center. The classic activities in a lifecycle include design, development, deployment, operations, and maintenance support.
With Analysis and Design, gather information to identify the business capability and applications you need to deliver to your users.
In the Development and Integration phase, build the elements of your new capability. This could include custom software development, or integration of an existing commercial software product.
With Deployment, make the new capability available to your users. The shading in the box for this phase shows the transitional element commonly involved in a deployment effort.
And finally, during Operations and Support, do everything that is necessary to keep that capability up and running — reliably available to your users, and (no less important) unavailable to unauthorized parties.
Vision Technologies performs all the routine operations for the data center. At the same time, we recognize that the data center is a platform for delivering applications and business capabilities to you and your end users. Our Professional Services can provide the right talent, experience, and network partnerships at every stage of your lifecycle.
The four-phase lifecycle we described at the beginning of this article is, of course, a simplified view. The lifecycle will vary according to the type of service or solution you are delivering. Here are excerpts from three lifecycle models with a bit more detail.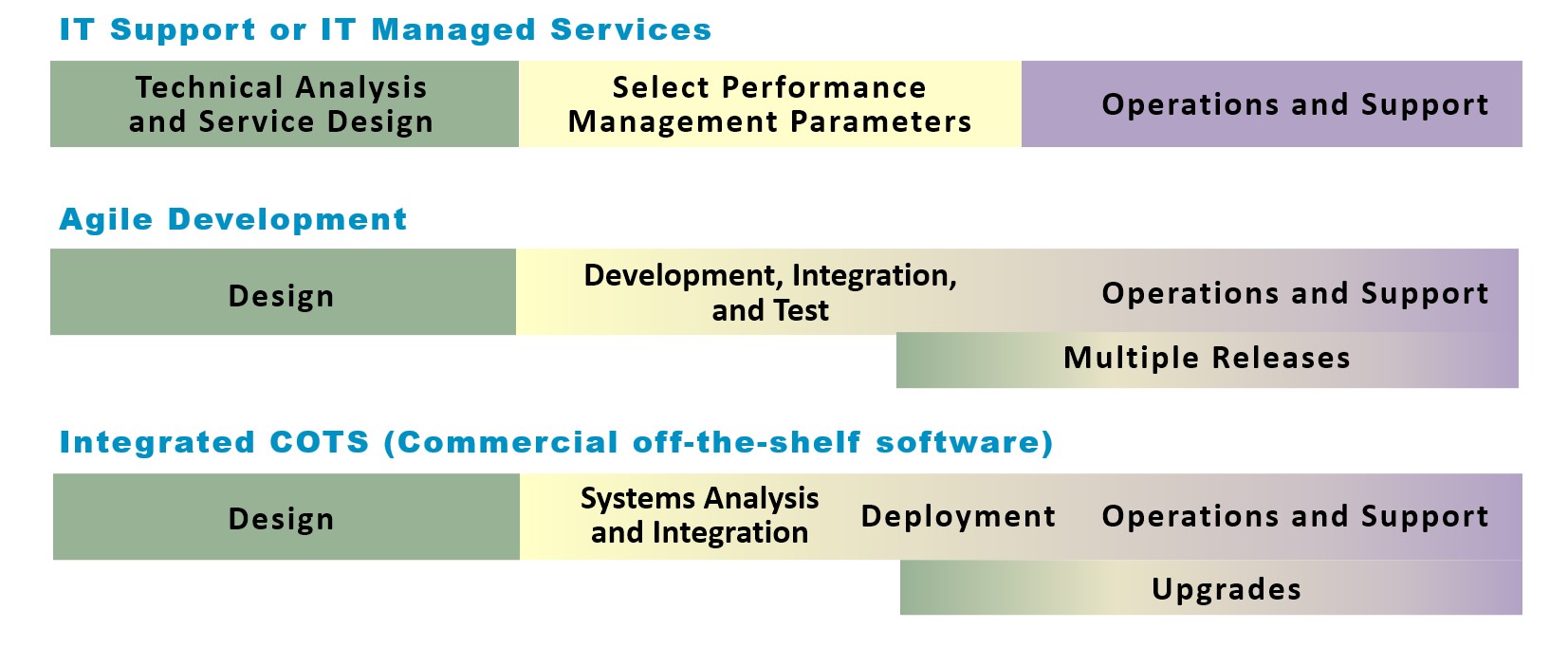 For a standard managed services project, a straightforward analysis and transition can bring you to full capability. By contrast, Agile development involves an iterative approach, with project phases repeated as needed for each release. Similarly, a commercial software product can require occasional upgrades repeating many of the elements of the original deployment. The color shading indicates the hybrid, iterative nature of these phases.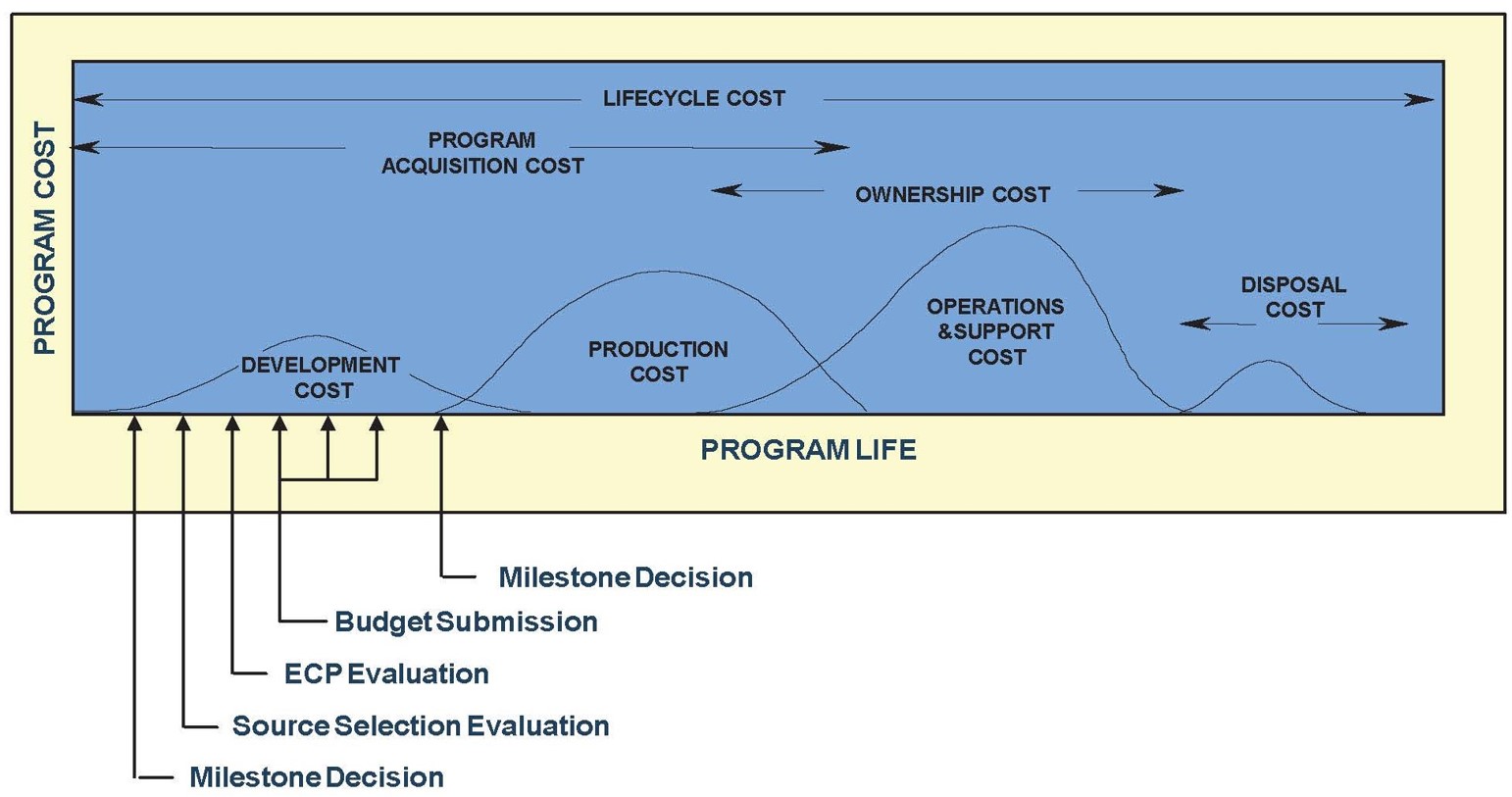 Notice what all of these have in common. Whether you're running an Agile development project or delivering an IT-based business capability, there's always a support phase. Indeed, Operations and Support often amount to the most expensive phase in the lifecycle: lasting longer and involving greater resources in time and personnel than the original development.
Operations and Support is far too important to overlook. You are expected to deliver user support, patches, upgrades, and system administration functions while keeping your services responsive and available to your user base.
By engaging Professional Services outside your organization, you can gain the advantages of expertise and industry knowledge, improving service levels and allowing you to concentrate on your core business. In recent years, many companies have expanded the scope of their outsourced functions to include functions that significantly affect the success or failure of their critical operations. This shows the clear advantages to be gained by engaging an experienced partner such as Vision Technologies.
Vision Technologies has supported data center and IT sustainment operations since 2005. To learn more about our data center support, read our latest datasheet.
Image credits:


1) Defense Contract Management Agency DCMA-INST 815, July 10, 2014, Figure 4. RMF and the DoD Acquisition Lifecycle.


2) Project Phases and 3) Lifecycle Costs diagrams adapted from DISA IT Acquisition Guidebook, Version 1 .0.
Professional Services