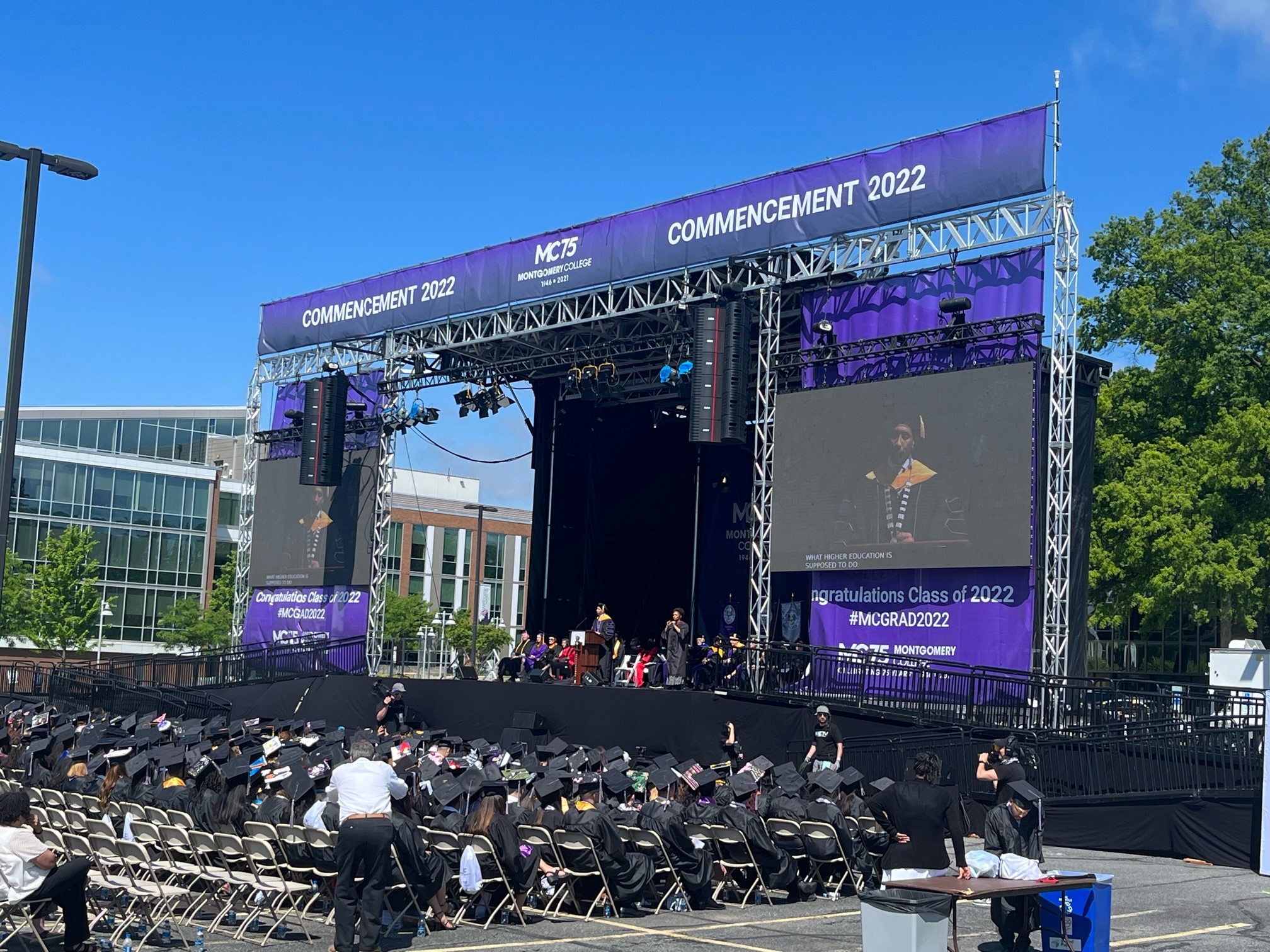 For two years now, schools have had to invest in hybrid technologies to help students of all ages adapt to remote and HyFlex classroom learning. We've witnessed firsthand the resilience of students, educators, and businesses across the nation step up and lean into this era of new digital transformation. But now graduation season is upon us as high schools and colleges across the nation are celebrating their advancing seniors through the usual ceremonies and fanfare. These celebrations are particularly meaningful this year as school communities have begun to come together again to host in-person ceremonies after the uncertainty of large events during the pandemic. In Maryland, Vision Technologies was particularly honored to join the celebrations of Montgomery College's 75th commencement- this time as the outdoor event audio visual provider.
Outdoor AV Transforms Event Space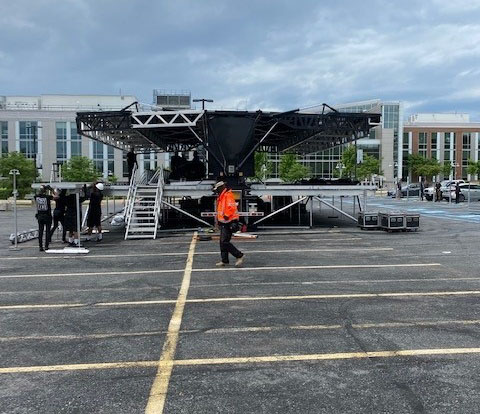 Needing to shift original plans and pivot quickly to host their in-person ceremony outdoors over the course of two days, Vision jumped at the opportunity to help a longstanding customer. In order to bring Montgomery College's vision to life, the AV team had to transform an empty parking lot into a highly visual space worthy of celebrating with more than 3,500 graduates and attendees.
To deliver, Vision provided:
A SAM450 Stageline Stage measuring 40 feet high by 86 feet wide with truss outriggers.

Two 3.9mm flown LED screens measuring 20' x 12'

Two 7mm ground supported LED delay screens measuring 16' x 8' 

One 18' x 28' 10mm Mobile LED Overflow Screen

Top of the line audio equipment package, including EAW ANNA Adaptive Arrays, to deliver clear sound supporting the presidential podium address
Through Vision's trusted partners and creative solutions, the team was overjoyed to "Make Vision Reality" through the design and delivery of an accessible and memorable outdoor event space.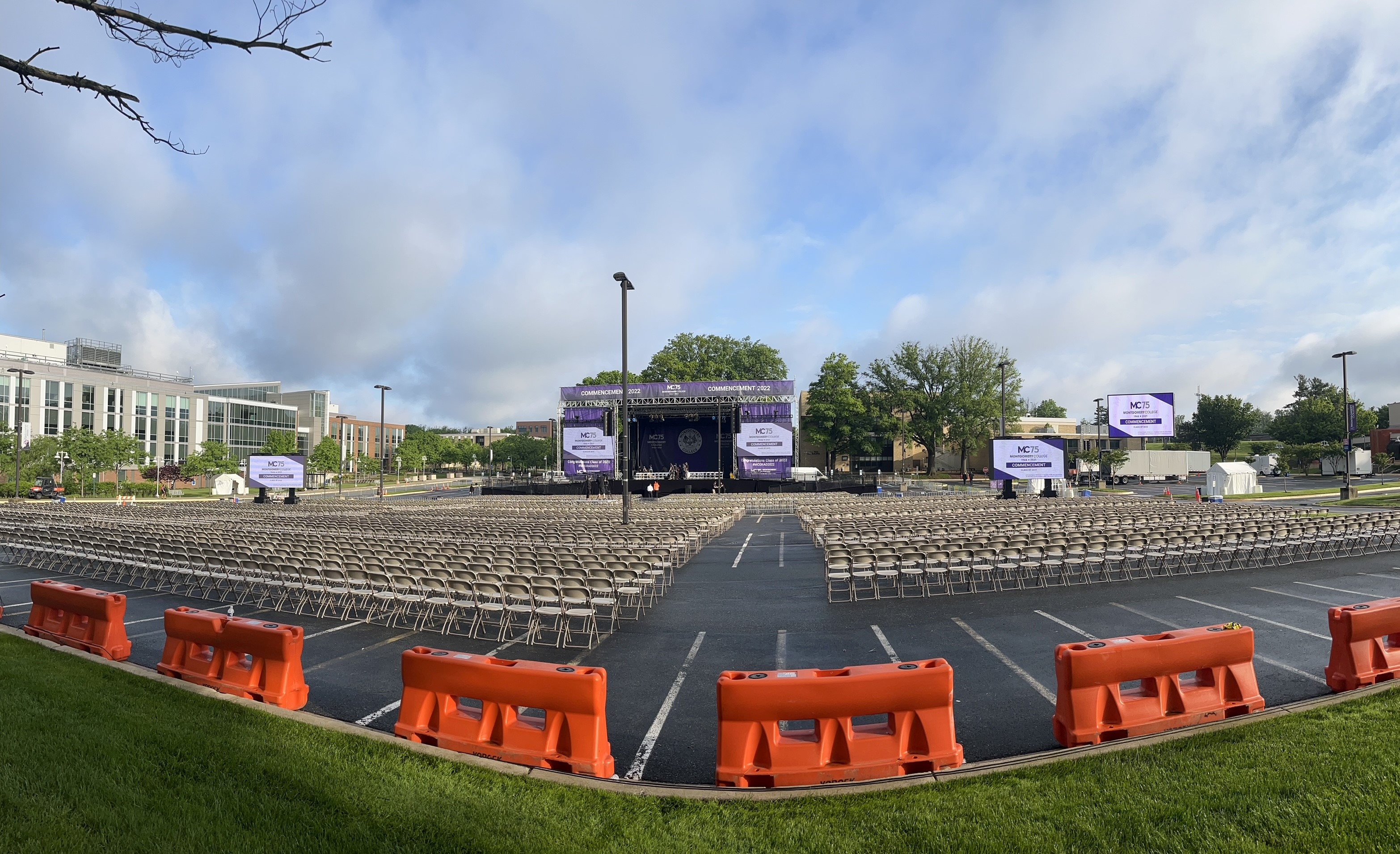 Watch the stage come together and commemorate highlights from the graduation ceremony here:
In the Montgomery College news feature, President Jermaine F. Williams stated, "just three months ago we had not planned to hold this ceremony in person," he said. "But then we heard from so many of you. We heard how much students wanted to celebrate their arrival at this day, so we pulled out all the stops to make it happen." Read more about the commencement story on their website.
Join us in wishing the Montgomery College class of 2022 congratulations on their graduation and best wishes in their next career adventure. The door at Vision Technologies always remains open!
Curious about other AV work from Vision Technologies? Check out our featured projects.
Audio Visual (AV)